Lifestealer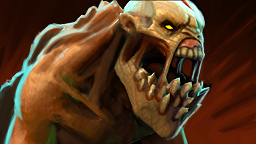 Infests other units for mobility and strength.
What was once a man is now little more than a husk, its mind long since departed from lifetimes of imprisonment. Or has it? Now on the loose, N'aix appears to be driven by a new purpose, although what precisely that is, none would know. The Lifestealer

Feasts

on raw flesh, nourishing himself with every attack while inflicting grievous

Open Wounds

that make escape near impossible. By sheer ferocity, or perhaps

Madness

, N'aix flies into a

Rage

, intensifying his assault while defying all wizardry. For a particularly nasty surprise, the Lifestealer

Infests

an unhappy victim, laying dormant inside its body in wait for the opportunity to

Consume

its host inside-out in a gory explosion.
Roles:
Carry Durable Jungler Escape Disabler
Complexity:
★★☆
Bio
[
]
Abilities
[
]
Talents
[
]
Recent Changes
[
]
Recommended Items
[
]
Starting items:

Early game:

Mid game:
Phase Boots allows Lifestealer to close the distance on his targets in order to get within Open Wounds' short range.
Magic Wand, as an upgrade of Magic Stick, greatly improves the hero's effectiveness mostly by compensating for low mana pool.
Armlet of Mordiggian shines with the extra HP, armor, and damage from the active Unholy Strength, all of which Lifestealer wants. Feast and Open Wounds negates the health loss to some extent, while the rest of the abilities offer a chance of armlet toggling.
Heaven's Halberd provide evasion against the physical attack of enemies, extra heal from Feast and Open Wounds, status resistance as well as a disarm for the enemy carry.

Late game:
Desolator increases Lifestealer's damage output greatly as it reduces armor of the enemy, allows him to tear down supports and carries with the help of extra attack speed and Spell Immunity of Rage. The item helps with farming and pushing towers as well.
Abyssal Blade gives Lifestealer a reliable source of stun, allows him to disable an enemy long enough for him to tear down. Lifestealer has almost no damage output outside of melee range, so it is really crucial to stick to his target as a melee carry. Besides, this item improves the hero's survivability with damage block and bonus health.

Situational items:
Gameplay
[
]
Audio
[
]
History
[
]
Equipment
[
]
Trivia
[
]
Lifestealer's fun/alternate name in DotA was Gollum, a significant character in the Lord of the Rings and Hobbit book series.

The references to Gollum are kept up in Dota 2:

Just like written in Lifestealer's lore, Lifestealer is no longer the former self he was, but rather a possessed body. Gollum has a similar story. Once being a Hobbit, his soul got corrupted by the ring, turning into the Gollum he is now.
Both Lifestealer and Gollum sometimes speak from themselves in plural form ("we", instead of "I"). They also talk to or about a "master".
His rivalry line towards Tidehunter Link▶️ "Tidehunter…I love a bit of raw fish now and again." refers to Gollum's hate towards stewing - or the preparing in general - of fish. Gollum prefers his fish raw and "wriggling".[1]

Ghoul Frenzy shares the same name with the passive upgrade for the Ghoul units of Warcraft 3, an Undead unit whom Lifestealer was based off of in DotA. Both abilities increase the respective user's attack speed, but the similarities end there since Lifestealer's passive has a slow effect, while the Ghoul's passive grants bonus movement speed.[2]
Gallery
[
]
References
[
]