Leshrac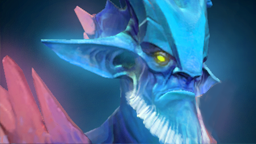 Can deal heavy damage in an aura around himself.
Once a worldly philosopher, the hideous truth at the heart of existence emanated

Nihilism

and twisted Leshrac into the vile being he is today. The

Split Earth

beneath his hooves opens to consume the unsuspecting, while

Lightning Storms

strike down entire fields of foes. He pronounces a

Diabolic Edict

, saturating the air with bouts of magical explosions. Warping the structure of spacetime, Leshrac emits a continuous

Pulse Nova

, disintegrating and scouring nearby foes without ever lifting a finger.
Roles:
Carry Support Nuker Pusher Disabler
Complexity:
★☆☆
Bio
[
]

Leshrac, the Tormented Soul
Leshrac, Tormented Soul, is an entity torn from the heart of nature, a liminal being that exists half in one plane of existence, half in another. His penetrating intelligence is such that he can never ignore for a moment the agonizing horror at the heart of all creation. Once a great philosopher who sought the meaning of existence, he plumbed the depths of nature with the haunted Chronoptic Crystals, and was forever altered by the hideous mysteries thereby revealed to him. Now the darkest depths of his enlightenment are illumined only by the fitful glare of his arrogance. Like other elemental characters, he is completely at one with nature, but in his case it is a nature lurid and vile. He alone sees the evil truth of reality, and has no use for those who believe the cosmos reserves a special reward for those who practice benevolence.
Abilities
[
]

Splits the earth under enemies. Deals damage and stuns for a short duration.

9
Causes Split Earth to repeat in the same location 3 additional times, with a 5 second delay between each one. Each time the radius increases by 75. Split Earth echo location is visible to both teams.

modifier_leshrac_split_earth_thinker
Twisting nature to his vile will, the shifting earth consumes those unlucky enough to cross Leshrac's path.
Notes:

Split Earth first applies the debuff, then the damage.
Destroys trees within the affected radius.
Has no visual or audio indicator during the effect delay.
With Aghanim's Shard, Split Earth applies its effect

4

times at the targeted point.

The first instance still happens 0.35 seconds after cast. The following instances happen

5.35

/

10.35

/

15.35

seconds after cast.
The visual effect during the delay between the extra instances is visible to everyone.
Each instance has the following radius:

Notes:

Diabolic Edict's radius is centered on and follows Leshrac.
Randomly selects nearby valid units for each explosion. There are no priorities.

Fully affects invisible units and units in the Fog of War.
When no valid targets are nearby, the explosions randomly appear within a square with 500 side length. These random explosions deal no damage.
When Leshrac dies, the explosions still occur at his location.
Multiple instances of Diabolic Edict fully stack.
Summons a lightning storm that blasts the target enemy unit, then jumps to nearby enemy units. Struck units are slowed by 75% for a duration.
Number of Jumps:
5/7/9/11
Slow Duration:
0.4/0.6/0.8/1

4
Blocked fully only when primary target.

modifier_leshrac_lightning_storm_scepter_thinker
modifier_leshrac_lightning_storm
modifier_leshrac_lightning_storm_slow
The Tormented Soul's mastery of the elements is evident in the massive storms that strike down armies before him.
Notes:

The lightning hits the initial target after the 0.25-second effect delay and then jumps to other targets in 0.25-second intervals, so hitting all targets takes 1.25/1.75/2.25/2.75 seconds.
Cannot hit the same unit twice per cast.

With the

bounce twice on units

talent, it can bounce back on the same unit once.
However, it cannot bounce on the same unit twice in a row, so a lone target is hit only once.
Only bounces back to the same unit again if it already hit all other valid targets nearby.
All jumps together can deal up to 350/840/1530/2420 (

850

/

1540

/

2430

/

3520

) damage (before reductions).
Lightning Storm first applies the damage, then the debuff.
The

lightning storm

buff is a hidden buff required for the lightning to jump.

Causes Leshrac and all nearby enemies to turn ethereal, preventing them from attacking, slowing them, and making them take more magic damage. Increases Leshrac's speed rather than reducing it. Does not cause Leshrac to take amplified damage.
Enemy Magic Resistance Reduction:
30%
Aura Linger Duration:
0.5

25

75
The attack immunity on the caster stops working while spell immune.
Does not affect spell immune enemies.

modifier_leshrac_decrepify_aura
modifier_leshrac_decrepify
Notes:

Interrupts Leshrac's channeling abilities upon cast.
Reduces most heroes' total magic resistance to

2.5%

.
The ethereal effect on enemies is provided by an aura, its debuff lingers for 0.5 seconds.
Multiple casts of Nihilism do not stack.
Mana Cost per Second:
20/40/60

1

70
Aghanim's Scepter Upgrade:
If necessary, the Tormented Soul can manipulate space time itself, ravaging lesser beings.
Notes:

Deals damage and drains mana in 1-second intervals, starting immediately upon activating ability.

Activating the ability costs 90 mana.
However, when having less than 90 mana and toggling on, it will still deal 1 damage instance and then toggle off.
Talents
[
]
Recent Changes
[
]
Lightning Storm

Increased number of jumps from 4/6/8/10 to 5/7/9/11.
Rescaled damage from 90/130/170/210 to 70/120/170/220.
Recommended items
[
]
Starting items:
Early game:
Mid game:
Late game:
Octarine Core raises health and mana for sustainability. Cooldown Reduction and Spell Lifesteal allows Leshrac to constantly use abilities while keeping himself healthy. However, you may need a large mana pool or regeneration to make the most out of this item.
Shiva's Guard enhances Leshrac's survivability against physical attacks with armor and attack speed slow aura, while also increasing his intelligence. Use Arctic Blast to slow enemy movement speed and keep them within range of Pulse Nova.
Situational items:
Gameplay
[
]
Audio
[
]
History
[
]
Equipment
[
]
Trivia
[
]
The name Leshrac comes from a Planeswalker from the Magic: the Gathering multiverse.

Diabolic Edict is the name of an iconic black card in that game; much like the Dota 2 spell, the Magic card was more effective when there were fewer targets, as your opponent got to choose which target got hit.
When meeting Leshrac as an enemy or an ally, Spirit Breaker (who also happens to be a planeswalker or planeshifter in Dota 2's lore) will reference this in his lines towards Leshrac.

Leshrac's response Link▶️ "An evil wind rises." is a reference to the real life mazuku, which is Swahili for "evil wind". A mazuku is a toxic pocket of air that is rich in carbon dioxide which is lethal to anyone inside the pocket. It originates from vents in the earth such as lava tunnels where it rises into the low lying areas on the surface, or beneath lakes rich in CO2 where it rises into the air of the surrounding area via limnic eruptions.[1]
Gallery
[
]
References
[
]