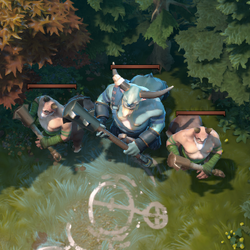 The large Centaur camp is a large camp of neutral creeps. It contains 1 Centaur Conqueror and 2 Centaur Courser, and gives a total of 152 experience and 85-100 gold.
Abilities
[
]
Centaur Conqueror
The Centaur Conqueror's powerful hooves stomp the ground, stunning and damaging nearby enemies. Heroes recover more quickly.
Notes:

The stomp first applies the debuff, then the damage.
As a neutral unit:

The centaur only casts this spell when there are 3 or more enemy units within the radius while it is attacking.
This means it does not cast it when there are 3 invulnerable units, however, it does when it is aggroed.
All 3 units must be valid targets for the spell. Units which are not affected by the spell do not count.
As a player controlled unit:
Has a cast backswing of 1.07 when cast by Rubick (acquired through casting Spell Steal on Doom).

Centaur Courser
This creature protects its allies with a Magic resistance aura. Creeps are better protected.
Hero Magic Resistance Bonus:
10%
Non-Hero Magic Resistance Bonus:
20%
Aura Linger Duration:
0.5

Illusions can bestow the aura, but are not affected by the magic resistance.
Notes:

The aura's buff lingers for 0.5 seconds.
Multiple instances of Cloak Aura do not stack.
Increases most heroes' total magic resistance to 32.5%, assuming basic 25% magic resistance and no other sources of magic resistance.
Tips
[
]
The Cloak Aura is not very useful for heroes, but heroes that summon or control units such as Chen may really benefit from it. The 20% magic resistance bonus will make it harder for the enemy to kill them with magic damage.
Trivia
[
]
In the original DotA, the Centaur Conqueror was known as "Centaur Khan", and the Centaur Courser was known as "Centaur Outrunner".
Version history
[
]