Kunkka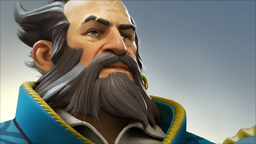 Disrupts enemy positioning and disables them.
It is said that none survived the battle at the Trembling Isle, save perhaps, the Admiral of the Claddish fleet. Man or phantom, Kunkka's presence on the battlefield is duly felt by all. Armed with the legendary

Tidebringer

, the Admiral strikes with a single blow at all who stand before him. A veteran of innumerable naval engagements, Kunkka times his skills with

Planned Precision

, predicting

Tidal Waves

and catching opponents in a rising

Torrent

, disrupting the battlefield with a

Storm of Geysers

, or summoning the ephemeral

Ghostly Shipwreck

to dash them upon the rocks. Should his aim prove true, he and his allies will have no trouble cleaning up whatever is left.
Roles:
Carry Support Disabler Initiator Durable Nuker
Complexity:
★★☆
Bio
[
]
Abilities
[
]
Talents
[
]
Recent Changes
[
]
Recommended Items
[
]
Starting items:
Clarity is very useful on Kunkka as his spells are all very mana-costly. Being able to use Torrent more than once without running completely out of mana greatly increases his ability to lock down foes and score early kills.
Tango fulfills basic regen requirements in all lanes but mid. Having flexible regen allows Kunkka to remain in lane without being harassed out.
Faerie Fire is a useful consumable to purchase as a mid Kunkka. The damage bonus gives him last-hitting power and allows him to splash more damage on his lane opponent with Tidebringer, and consuming it can give him some last-second burst HP regen that can save him during enemy gank attempts.
Early game:
Boots of Speed are important on all heroes, but can be quite important on Kunkka for getting in position to cast X Marks the Spot on foes at early levels.
Magic Stick is useful on all heroes. On Kunkka, it can help alleviate his mana issues by giving him some burst mana regen for casting his spells.
Bottle is effectively mandatory if Kunkka is to be played mid. A Bottle is extremely useful for replenishing Kunkka's small mana pool, and can be easily replenished using X and a teleport to base.
Mid game:
Late game:
Shadow Blade allows him to inflict additional damage to the entire enemy team when combined with Tidebringer. As well, it can be used for mobility or escape as demanded.
Blink Dagger, combined with X Marks the Spot, greatly extends Kunkka's reach when attacking with Tidebringer, and is useful no matter what role he plays. He can X himself and then blink forward, casting any spells or attacking with Tidebringer, and then returning to safety. Used by itself, Kunkka can instantly position himself in the best location from which to cleave the enemy, or jump within range to cast X on a foe during an initiation.
Daedalus is an extremely powerful damage item in the hands of Kunkka, who can additionally benefit from building more than one to increase the proc chance. If his damage is high enough and he procs a crit alongside Tidebringer, Kunkka can potentially slay multiple enemy heroes with a single slash of his sword.
Situational items:
Gameplay
[
]
Audio
[
]
History
[
]
Equipment
[
]
Trivia
[
]
Kunkka was named in honour of the artist who made numerous pieces of loading screen art for DotA and Dota 2.[1]
Kunkka's official alternate/fun names were "Daelin Proudmoore", "CoCo", and "Captain Obvious". Daelin Proudmoore was a campaign boss in Warcraft III: The Frozen Throne; his hero model is borrowed by Kunkka in DotA.
In his DotA biography, it is stated that some people called him "Jack Sparrow," but it was never seen as his name in-game. Jack Sparrow is the name of the main character in the Pirates of the Carribean movie franchise.
His rival hero taunts against Slardar, Death Prophet, and Doom, and his allied lines for Windranger and Ancient Apparition, all come from Samuel Taylor Coleridge's poem, The Rime of the Ancient Mariner.
His battle begin line Link▶️ "Rough seas ahead, crew. Strap me to the mizzen when I give the word." is likely a reference to The Odyssey, where Odysseus commands his crew to strap him to the mast so he could hear the Sirens sing.
Jon St. John, Kunkka's voice actor, originally suggested to Valve to base Kunkka's voice on the voice he used for Varian Wrynn from World of Warcraft.
Gallery
[
]
References
[
]