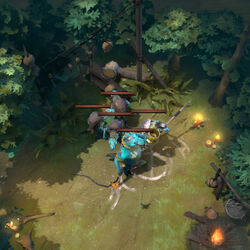 The Kobold camp is a small camp of neutral creeps. It contains 3 Kobolds, 1 Kobold Soldier and 1 Kobold Foreman, and gives a total of 107 experience and 52-67 gold.
Abilities
[
]
Kobold Foreman
The Kobold Foreman's cruel efficiency increases his movement speed and the movement speed of all nearby allies.
Notes:

The aura's buff lingers for 0.5 seconds.
Trivia
[
]
In the original DotA, the Kobold Foreman was known as "Kobold Taskmaster", and the Kobold Soldier was known as "Kobold Tunneler". The small Kobold has not had its name changed.
Version history
[
]