Invoker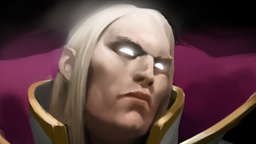 Weaves magic with an array of spell combos.
A competent wizard knows perhaps two spells; an exceptional one, three or four. Wielding the elements of

Quas

,

Wex

and

Exort

, the Invoker surpasses them all. He conjures

Forge Spirits

,

Cold Snapping

foes in moment intervals with

Alacrity

. Predicting every movement, the Invoker

Sun Strikes

any point in the world, then

Vanishes

away, leaving an impassable

Ice Wall

to dissuade pursuers. A strong

Tornado

throws opponents into the air. while an

EMP

awaits to deplete their mana upon landing. Advancing enemies are repelled with

Deafening Blasts

, giving Invoker more than enough time to crush them under a

Meteor

. Whatever magic he chooses, one thing is certain: All shall come to bow before the Arsenal Magus.
Roles:
Carry Nuker Disabler Escape Pusher
Complexity:
★★★

Invoker is available in

Ability Draft, but due to his very unique nature, he has been heavily modified to work in that mode. See Invoker in Ability Draft for details.
Bio
[
]
Abilities
[
]
Invoked Abilities
[
]
Forged Spirit
[
]
Talents
[
]
Recent Changes
[
]
Recommended Items
[
]
Starting items:
Tango gives health regeneration to help Invoker stay longer in lane.
Faerie Fire is often bought to increase his starting damage for lasthitting, and to consume in an early fight, potentially avoiding death for a low cost.

Early game:

Mid game:

Late game:
Blink Dagger is a very strong item to build on Invoker, as he requires good positioning in order to make the most of his spells. Its mobility greatly increases his offensive potential as well as survivability. This item can later be upgraded to Arcane Blink, which highly decreases all of his spells' mana requirements.
Octarine Core is extremely strong on cast-heavy nukers, and can make Invoker a force to be reckoned with. The item grants a tremendous amount of health and mana, reduces the cooldowns on all of his spells as well as Invoke, making him much harder to bring down in fights.
Refresher Orb turns Invoker into an unstoppable nuker. Two back to back spell combos will kill just about any hero.

Situational items:
Gameplay
[
]
Audio
[
]
History
[
]
Equipment
[
]
Trivia
[
]
In the earliest version of Invoker, the order of instances mattered when Invoke was cast. Invoker, therefore, had access to 27 spells, including most of the 10 still in the game (though with some differences).[1] For more information, see here.
Invoker is (or used to be) a Magus like Rubick, who calls him the Link▶️ Link▶️ Link▶️ Arsenal Magus.
Invoker's Deafening Blast cast response Link▶️ "Sonic boom!" is a reference to the signature move of Guile from the Street Fighter fighting game series.
Invoker (Along with some players and casters) sometimes jokingly refers to his Chaos Meteor as a meatball (Link▶️ "Behold the meatball!"), due to their highly similar appearance.
One of Invoker's lines when he casts Chaos Meteor is Link▶️ "Gallaron's Abyssal Carnesphere!" Carne is Portuguese, Spanish, Romanian, and Italian for meat, and a sphere is the geometric shape of a ball. So, "carnesphere" is another way of saying "meatball".
Invoker's preferred style of spellcasting, involving the invocation of mnemonics, is inspired by the magic in Jack Vance's Dying Earth series. Further references to Vancian magic are in the alternate names for his spells, which involve verbose invocations such as "Sadron's Protracted Frisson" and "Killing Wall of Koryx.".
Invoker's line for purchasing a Blink Dagger Link▶️ "Dagger of the mind." references the "Dagger" monologue from Shakespeare's play, Macbeth.
Invoker's respawn line Link▶️ "Knowing me... knowing you." references the song by the band Abba, of the same name.[2]
Invoker's voice actor, Dennis Bateman, also voices the Spy from Team Fortress 2. Invoker's killing response Link▶️ "You die as you lived: insipid and ignorant." is a reference to this, as the Spy also has 2 similar killing responses: "You died as you lived: running away!" and "You died as you lived: morbidly obese!".
As referenced in the details of his name, Invoker was known as Kael, or Kael'thas Sunstrider, in DotA. Kael'thas is best known as the Lord of the Blood Elves in the Warcraft universe.[3] The Invoker of DotA also makes use of his Warcraft 3 model and voice.

Skywrath Mage's responses when meeting Invoker may also be related to this, as Dragonus was also a blood elf in DotA.

The first letter of Quas, Wex and Exort refers to the key of a QWERTY keyboard they are by default bound to (Q, W, and E). In lore, they are most likely mnemonics used to invoke spells.
Name
[
]
In DotA, Invoker's name is Kael,[4] based on the WarCraft Blood Elf Mage character, Kael'thas Sunstrider. His fun name is Kal-El, a pun conflating the name Kael with the birth name of Superman.
In April 2011, a fake DotA 6.72 Chinese changelog[5] referred to Invoker as "卡尔" ("Kael", transliterated as "Kǎ'ěr"). A PlayDota forum member translated the changelog[6] with Google Translate, in an attempt to get a quick, rough translation. Google Translate mistakenly translated "卡尔" as "Carl". PlayDota forum members were at first confused, then entertained by the mistake. IceFrog, the lead developer of DotA and Dota 2, joked "Carl had it coming".[7]
In December 2011, drafts of Invoker's Dota 2 lore referred to him as "Garral" twice, presumably a nod to "Carl". This name was excised upon Invoker's release in January 2012; the lore currently refers to him only as "the Invoker".
Invoker's voice lines include the name Carl three times. Invoker has a small chance to speak one of these lines when his model is selected:
Undying uses the name Carl once, when meeting an allied Invoker on the battlefield, and even then only 5% of the time:
Mirana uses the name Carl once, when killing an enemy Invoker, and even then only 5% of the time:

Link▶️ "Carl, meet Sagan." A pun on Carl Sagan. (Mirana's feline mount is named Sagan.)

In summary, Invoker's real name was meant to be possibly Carl, hence the audio files that Mirana, Undying, and Invoker himself mentioned beforehand. The release of Young Invoker persona has confirmed this, in the item's description, that the real name of Invoker is indeed Carl.
Gallery
[
]
References
[
]