Invisibility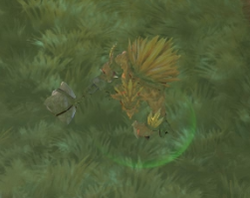 Invisibility is a status effect which makes units and heroes not appear on their opponent's screen or minimap, and makes them unable to be targeted directly by the enemy. Invisibility makes the unit's model appear transparent, but clearly visible still for allies. If it is an allied hero, its dot on the minimap also turns into a ring for the duration.
Definition
[
edit
]
A unit can gain (usually temporarily, but not always) invisibility through certain abilities, items or from Invisibility Rune. Some units, like most wards passively have permanent invisibility and do not need to acquire it through other sources. Generally, a unit keeps the gained invisibility until the duration runs out, or they perform an attack, cast an ability or item.
True Sight and shared vision allows a unit to see invisible enemies without dispelling the invisibility. True Sight makes the units appear transparent, while shared vision only shows a silhouette. Both reveals the unit, and it can be targeted again, without dispelling the invisibility.
Fade Time
[
edit
]
Most sources of invisibility have a Fade Time to turn the unit fully invisible. During this time, the unit is still visible, can still be targeted by attacks or abilities and they appear to be partially transparent. This period of time before the actual invisibility is applies is known as Fade Time.
The characteristics of Fade Time are:
The affected unit does not automatically attack nearby enemies, regardless of auto attack settings during the fade time.
The unit can cast cast abilities or items and even attack without breaking the invisibility during the fade time.
Fade Delay
[
edit
]
Fade delay refers to the short delay before the actual invisibility is applied, but it has some significant differences with Fade Time.
The characteristics of Fade Delay are:
The affected unit's model does not appear transparent.
The unit does not stop automatically attacking nearby enemies when the auto attack option is turned on (with ◉

Standard

or ◎

Always

).
The fade delay does not cause the unit to cancel an already ongoing attack order.
It is not possible to cast abilities or items without breaking the invisibility.
Unit Behavior
[
edit
]
While invisible, a unit never automatically attacks any nearby enemy, not even when it is revealed by True Sight and being attacked. However, when issuing a ground-targeted order (A+
Left Click), the invisible unit attacks.
Generally, the invisibility is lost upon reaching the attack point. For

Ranged heroes, this is upon projectile launch.
As for casting abilities, the invisibility is lost upon reaching the cast point of the ability. This means that abilities with extended effects i.e. Eclipse or Epicenter do not cancel the invisibility upon each beam or pulse. Channeling abilities do not cancel it either when going invisible after the channeling started.
All

Ranged attacks and most ability projectiles are disjointed by invisibility. However, some ability projectiles are still able to affect invisible units, and some have other effects entirely. Invisible units are still fully or partially affected by abilities which has an effect radius or affects an area.
Sources of Invisibility
[
edit
]
Abilities Granting Invisibility
Permanent Invisibility
[
edit
]
The following units have permanently invisibility and are phased once they are created, learned, cast or spawned.
Abilities Granting Permanent Invisibility
True Sight Immune
[
edit
]
The following abilities grant invisibility that are immune to True Sight. The invisibility granted is not lost upon casting abilities, items or attacking.
Abilities Granting Invisibility Immune to True Sight
True Sight
[
edit
]
True Sight allows a unit to see and target invisible enemies that are in range. Some of the listed abilities provide True Sight only during certain situations.
Abilities which provide shared vision does not provide True Sight, as it merely just shares what that enemy unit actually sees to the player's team.
Exposing an enemy does not cancel out the effects of invisibility, although it does make their silhouette visible. An exposed invisible enemy has its location revealed, and can even be selected like a visible enemy, but is still almost fully treated as an invisible unit. This means it still cannot be targeted by attacks or single-targeted abilities, and still counts as invisible in terms of abilities affecting them, with a very few exceptions. Some sources of exposure also provide True Sight to fully reveal the enemy, but not all do. Exposing is a default component of shared vision. Therefore, it does not provide True Sight.
Sources of True Sight
[
edit
]
Abilities Providing True Sight
Buildings
[
edit
]
The effects of True Sight from Buildings is provided by an aura and its effect lingers for 0.5 seconds.
Buildings Providing True Sight
Invisibility interactions with other spells
[
edit
]
Targeting invisible units
[
edit
]
Most spells which affect an area usually affect invisible units as well, with some exceptions. Single target spells cannot target invisible units without the help of True Sight. Although shared vision renders the unit's model visible even during invisibility, it is not enough to allow single target spells to target them.
Spells which choose specific or random targets on cast behave inconsistently with invisibility. This includes all bouncing spells (e.g. Arc Lightning) and multi-target spells like Poison Touch and Heat-Seeking Missile. The following such spells do not target invisible units:
1 Requires Aghanim's Scepter. When upgraded, these spells can target secondary units, but ignore invisible ones.
2 Requires a

talent. When upgraded, these spells can target secondary units, but ignore invisible ones.
3 These spells choose a new target if their current target dies. They do not choose invisible targets.
4 Soulbind does not bind the target to their invisible allies, but keeps the link up if an already bound unit turns invisible.
5 Lightning Storm also includes the single strikes from Aghanim's Scepter upgraded Pulse Nova.
6 Concussive Shot does not seek for invisible units. The area effect does hit nearby invisible units.
7 The secondary Mystic Flare is not created on invisible enemies. The area damage does affect invisible units.
8 Toss does not select nearby invisible enemy units to toss. The area damage does hit invisible enemies.
The following spells have mixed interactions:
Turning invisible after cast
[
edit
]
For most spells, it does not matter if the target turns invisible after the spell's effect already have begun. Their effects continue normally, regardless of the invisibility. There are exceptions to this.
All sources of invisibility disjoint projectiles. Even a split-second of vision loss caused by invisibility is enough to disjoint projectiles, even when regaining vision of the unit before the projectile reaches it. This disjoint does not happen when having True Sight over the unit.
Besides disjointed projectiles, the following spells behave differently when their targets turn invisible while they are active.
Version History
[
edit
]
Patch History
[
edit
]
Fixed invisibility being unable to disjoint attack projectiles.
The following abilities now will damage invisible units that have been revealed:
Mechanics
Stats
Attack
Abilities
Status effects
World
Gameplay
Units