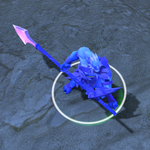 Spawning
[
]
Power Runes

Power runes start spawning at the 6:00 minute mark, and then every 2 minutes (8:00, 10:00, 12:00, etc.)
They spawn at one of the rune spots within the river, which is randomly chosen.
If a Power Rune is not picked up before the next one spawns, it disappears.
The same Power Rune cannot spawn twice in a row.
Ability
[
]
Conjures 2 illusions of your hero which deal 35% damage. Melee illusions take 200% damage. Ranged illusions take 300% damage. Illusions last 75 seconds.
Notes:

Resets all current attack and spell targeting orders from other units on the owner.
After the split time, the caster reappears with their illusions.

The reappear locations are based on the caster's position upon cast, with one appearing at the cast location, and the others north, east, south or west from that point.
The distance in between each is 108 range if the hero has a collision size of 24, and 72 if the collision size is 8.
Though the formation is always the same, the caster and their illusions take a random position in the formation and have all the same facing angle.
Orders the user to stop after the split time, canceling all queued orders, and orders given during the split time.
Activating a new Illusion Rune while already having illusions from a previous Illusion Rune does not replace them.