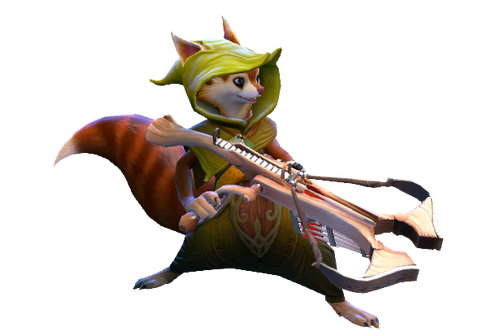 Gameplay
[
]
Playstyle
Hoodwink is a mobile but fragile hero that relies on the chaos her kit provides to disorient and distract enemies. She is a medium carry capable of dishing out substantial damage, relying heavily on trees for disables and escape. Her ultimate Sharpshooter is excellent for initiating fights from long range, though it takes significant time to wind up.
Pros
Cons

Excellent when played near trees.
Strong wave clear and split pushing potential using Acorn Shot and Scurry.
Can be played in many different roles.
Is mostly item independent, but is able to scale extremely well with items due to Acorn Shot and Scurry.
Strong long range engage with Bushwhack's stun and Sharpshooter's slow and break.

Low base strength.
Requires positioning and timing due to her often reliance on trees.
Cannot reliably carry even when fully farmed unlike other traditional carries.
Offlane
[
]
Hoodwink can be played reliably in the offlane as a solid splitpusher due to her kit being extremely slippery because of Scurry's active and Bushwhack's stun. An Offlane Hoodwink can build normal damage items such as desolator and maelstrom to further enhance her splitpushing power or she can transition into a semi-support by building mekanism and playing around her team more often using Acorn Shot + Bushwhack to initiate or counter-initiate for her team.
Mid
[
]
Start with a Blades of Attack and 3 Iron Branches or 1 Iron Branch and 1 Faerie Fire to get your damage above 60 to better contest last hits. Build into Falcon Blade as it gives you the same amount of damage as 2 Wraith bands would and your Acorn Shot does not scale with attack speed. Buy the Sage's Mask first as it gives almost the same mana regeneration as 1 Null Talisman, then the Fluffy Hat as it gives 25 more hp than 1 bracer. (You start with Blades of Attack, because they give you last-hitting power and are the most expensive component of Falcon Blade)
Hoodwink has a huge power spike at lvl 6 with Sharpshooter, with which she can gank side lanes. Often she can kill unsuspecting enemies farming at 70% HP solely with her fully charged ult.
With the movement speed bonus from Scurry, the wave clear from Acorn Shot, and the low cooldown on Sharpshooter she can often make rotations to the sidelanes. Get a lot of Clarities to keep up the constant ganks.
As soon as you damage is above 62 you can contest almost every last hit against anybody with your superior attack animation. Secure ranged creeps with Acorn Shot, by pulling the the melee creeps way from the ranged so you get bounces on the enemy mid.
Buy Maelstrom to clear waves quickly. With Maelstrom and Crystalys you can clear Ancient Creep Camps real fast. Boots of Travel allow you to depush and split push yourself and they synergize well with Scurry.
Ability Builds
[
]
If you are against gap closing mid heroes like Lycan or Phantom Assassin get 1 point in Bushwhack at lvl 2 or 4 to tie them to a tree to run away when they man up on you.
2 points in Scurry are good value as the evasion next to trees is doubled.
Ganking Mid Hoodwink
1
2
3
4
5
6
7
8
9
10
11
12
13
14
15
16
17
18
20
25
Talents
[
]
Notes:
Armor Corruption from talents is not disabled by Break.

The armor corruption lasts 10 seconds, and stacks with the Armor Corruption talents of other heroes.
Tips & Tactics
[
]
General
[
]
Abilities
[
]
Acorn Shot allows you throw an acorn that bounces through each enemies while also creating a tree if ground-targeted.
Use Bushwack after a point-targeted Acorn Shot to stun all enemies in the tree you've just created.
Acorn Shot will seek out targets in the fog of war.
Acorn Shot, when ground targeted, spawns an Ironwood Tree.

Enemy heroes can also benefit from consuming the Ironwood Tree.

As each bounce performs an instant attack, you get revealed on each bounce.

This means Scurry Camouflage will not activate during the bounce duration, and other invisibility from items like Shadow Blade will be instantly broken on bounce.

If you go a damage build with Daedalus, consider buying Black King Bar or Mage Slayer to mitigate the returned damage from Blade Mail.
You can scout for enemies on high ground and in trees with the ability, but be wary that it will reveal your position too.
The stun status is tied to the tree; destroying the tree will end the stun immediately.
Bushwhack can be used as an escape tool, by slipping away as stunned enemies lose their vision.
Bushwhack can be cast in conjunction with acorn shot, a well-timed acorn shot can create a tree before bushwhack lands.
You can tie enemies to trees while you charge Sharpshooter, as the ability is not considered a channel.
The ability gives vision, you can use it to scout for enemies that follow you into the trees without revealing your position.
Combined with Acorn Shot you can trap enemies on places such as Ward cliffs.
Unlike other abilities that destroy trees upon losing their free movement, Hoodwink can potentially get stuck in the trees.
Use the ability to gain distance during bounces from Acorn Shot as the ability will reveal your position.
Be wary of so-called Tinker Wards while split pushing, because they can still spot you in the trees, while split pushing.
Together with the bonus range from Acorn Shot you can push out the dangerous lane quite far out with out being caught as long as you have trees nearby.
This ability grants passive physical evasion, so it helps engaging in combat whilst nearby a tree.
Camouflage activates passively, with a very fast triggering time. It can help if Hoodwink is being chased or started upon. Just by standing still may evade a follow up from an enemy gank.
Camouflage from Scurry will hide you while charging Sharpshooter preventing enemies from knowing where Hoodwink is going to target.
Sharpshooter can be heard from the fog of war.
Targeted abilities and items can be used while charging, as long as Hoodwink does not have to turn to cast them, including mobility items such as Blink Dagger, Force Staff and Wind Waker.
If Hoodwink has to turn to use a targeted ability, the action will be queued, effectively preventing aiming or manually releasing Sharpshooter and using other abilities.
Sharpshooter will push Hoodwink in the opposite direction after channeling, this can be used to traverse impassable terrain or as an escape.
Hoodwink will shoot even if hexed, stunned, silenced or teleporting away. She'll immediately shoot if killed.
If hexed, stunned or silenced, Hoodwink cannot adjust aim or shoot freely.
It applies Break on the target, helping immensely taking down enemies with powerful passive abilities, such as Bristleback, Spectre, Phantom Assassin or Slark.
Best to target the farest enemy, because the boomerang damages all targets in its path until reaching its targeted unit, and back to Hoodwink.
It follows Hoodwink current position after reaching the target. So use it to try and nuke other units in its returning path.
Whenever possible, use this ability before casting all other abilities, specially Sharpshooter, because it increases considerably the magical damage output.
With Acorn Shot, this ability helps clearing creep waves much faster.
Can be combined with a previous Veil of Discord casting for additional damage output.
Powerful ability combined with Scurry Camouflage, specially if used as soon as getting ouf of sight.
Can be used as a set up or even in the middle of a chaotic fight, as the enemy can attack it and trigger the lesser Bushwhack, bringing their action to a full stop.
Can be used to help stacking neutral camps.
It has global casting, allowing for a fast point and cast without having to worry about range and it does not interrupt Hoodwink's current action, such as attacking or moving.
Can be combined with Mjollnir to farm creeps and lure enemies in, because its special triggers only on Hero-based direct attacks, which can be a good set up for potential gank.
Items
[
]
Starting items:
Early game:
Mid game:
Late game:
Situational items:

Neutral items: