Hoodwink
Hoodwink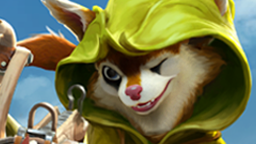 Hoodwink is a tricky ranged agility hero who runs wild through the trees of the Mistwoods. Firing Acorn Shots from her arbalest, she creates new forests through which to Scurry. For her foes, the woods are a dangerous place, full of Bushwhack traps and vantage points for the Sharpshooter to aim the ultimate crossbow shot. This crafty critter should never be underestimated.
Abilities
[
edit
]
Talents
[
edit
]
Recent Changes
[
edit
]
Recommended Items
[
edit
]
Starting items:
Early game:
Mid game:
Late game:
Situational items:
Gameplay
[
edit
]
| | |
| --- | --- |
| Roles: | Nuker Escape Disabler |
| Complexity: | ★★☆ |
| Playstyle: | Small and nimble, Hoodwink peppers her foes from the foliage with Acorn Shots, binding them against trees before Scurrying into the deep reaches of the forest. A natural Sharpshooter, Hoodwink winds up her heavy arbalest to deliver devastating bolts into the heart of the target. |
History
[
edit
]
Equipment
[
edit
]
Hoodwink currently has no equipment.
Hoodwink was teased in the Diretide 2020 trailer, where she appeared briefly with an unknown bird character in a newspaper article Snapfire is reading.[1]
Brooke Williams, who voices Hoodwink, has played other video game characters such as Merveil, the first major boss in Path of Exile.
Gallery
[
edit
]
References
[
edit
]