Hoodwink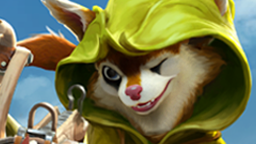 Shackles her enemies to trees.
Always at hand when trouble's afoot, Hoodwink lives to tangle with the threats that fill the haunted forest she adopted as her home. A natural

Sharpshooter

toting a massive crossbow and firing

Acorn Shots

while still able to

Scurry

through the woodland with the greatest of ease, Hoodwink is nearly impossible to keep tabs on in battle and

Bushwhacks

her foes when they least expect her to. Losing track of her once, she will use the opportunity to mislead her foes by sending out a

Decoy

, only to pop out holding her

Boomerang

behind them — their stunned carcasses already dangling in one of her nets.
Roles:
Support Nuker Escape Disabler
Complexity:
★★☆
Bio
[
]
Abilities
[
]

Talents
[
]
Recent Changes
[
]
Recommended Items
[
]
Starting items:
Early game:
Mid game:
Late game:
Situational items:

Neutral items:
Gameplay
[
]
Audio
[
]
History
[
]
Equipment
[
]
Trivia
[
]
Hoodwink was teased in the Diretide 2020 trailer, where she appeared briefly with an unknown bird character in a newspaper article Snapfire is reading.[1]
Hoodwink featured in the Nemestice trailer and fought Arc Warden.
Brooke Williams, who voices Hoodwink, has played other video game characters such as Merveil, the Act 1 final boss in Path of Exile.
Hoodwink's response upon buying Gleipnir, Link▶️ "Wait, if the Gleipnir's here. Then he's... I gotta go." is a reference to Primal Beast who she had chained up with it.

This in return may be a reference to the item being based on the Gleipnir artifact from Norse mythology that leashed the demon wolf Fenrir to prevent him from starting Ragnarok.
Gallery
[
]
References
[
]