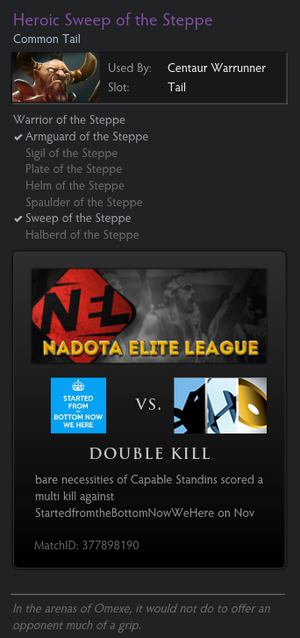 Heroic items are commemorative items that dropped during a Tournament for spectators watching in-game or on Twitch.tv with a linked Steam account.
General Information
[
]
Heroic items record the tournament, in-game event, teams, players, time of occurrence in their descriptions, as well as the match ID.
When accessed from the Armory, Heroic items provide a shortcut to the associated match which can be viewed if the associated ticket is held.
Items are chosen randomly from the current Crafting List.
Requirements
[
]
Spectators must own the ticket to the tournament to receive drops.
Heroic items will only drop in games with over 100 spectators.
Amateur leagues won't drop any item.

The number of drops handed out increases with the number of spectators.
Events
[
]
Heroic items only drop when certain events occur in-game.
Victory
First blood
Double kill
Triple kill
Ultra kill
Rampage
Godlike Spree
Courier killing
Allied hero denial
Hero denial
Aegis denial - (denying the Aegis of the Immortal)
Aegis snatch - (Stealing the Aegis after the enemy team kills Roshan)
Early Roshan - (Killing Roshan before the starting horn)
Purchasing a Rapier
5 man Echo Slam - (Hitting 5 enemy heroes with Echo Slam)
500 last hit - (500 last hits on creeps)