Gyrocopter
Gyrocopter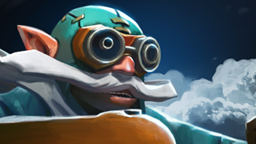 Aurel, the Gyrocopter, is a ranged agility hero, capable of outputting a lot of single target and area of effect damage at a multitude of ranges. Early game Gyrocopter is a strong ganker, with Rocket Barrage able to output a lot of damage in a short amount of time if he and his target are alone. His second ability, Homing Missile, is a long range projectile that forces opponents to either stop and engage to take out the missile, or run to a safe location before being stunned. Thanks to his third ability, Flak Cannon, he is also an excellent pusher, and with it can farm up big items in the midgame as his spells start to fall off in damage. Flak Cannon also allows him to hit everyone in a teamfight with his attacks, and with enough damage items he can inflict a lot of damage to the entire enemy team. Call Down is a useful ultimate with a low cooldown, providing a large area slow and nuke making it great for team fights. With the right items, he can also transition into a carry role.
Abilities
[
edit
]
Talents
[
edit
]
Recent Changes
[
edit
]
Recommended Items
[
edit
]
Starting items:
Early game:
Boots of Speed quickly can allow Gyrocopter to get early kills with his Rocket Barrage.
Magic Wand can save Gyrocopter in a pinch.
Mid game:
Late game:
Butterfly's evasion makes Gyrocopter significantly harder to take down, and allows him to go head to head against harder carries.
Satanic is the natural supplemental item to make Gyrocopter with multiple damage items able to survive longer in late-game teamfights, while also providing a decent damage boost itself.
Situational items:.
Gameplay
[
edit
]
| | |
| --- | --- |
| Roles: | Carry Nuker Disabler |
| Complexity: | ★☆☆ |
| Playstyle: | The world's first non-magical flying device took over a decade to create, and less than a few seconds to shoot down. But its pilot was not deterred. Aurel returned to the skies in a newer, better Gyrocopter. One with Flak Cannons, to strafe entire fields of foes. And Homing Missiles, to shoot down bogeys no matter how they twist or turn. Somebody infringing on your airspace? Let them have it with a Rocket Barrage. But sometimes, it's easier to just use the big bomb. Aurel Calls Down an air strike, and then delivers the payload himself before soaring away from the rising explosion. Not bad for an old timer. |
History
[
edit
]
Equipment
[
edit
]
Aurel Vlaicu was a Romanian pioneer of early flight.
Gyrocopter's response upon meeting Viper Link▶️ "Holy shit, it's Viper!" is a reference to a scene of the movie Top Gun.[1]
Gyrocopter's helmet is similar to Gaetan "The Mole" Moliere's headgear from Atlantis: The Lost Empire.
Gyrocopter's response upon using homing missile "Fox Two" is a reference to the NATO brevity code for an air-to-air infrared-guided missile launch.
Gallery
[
edit
]
References
[
edit
]