Dota 2 Wiki Guides
[
]
This is a list of Hero Guides written by the Dota 2 community. They detail the playstyle, strengths and weaknesses of each hero, as well as tips and tactics for each ability. Please help add information to incomplete guides. Reference completed guides for layout and formatting styles.
In-game Guides
[
]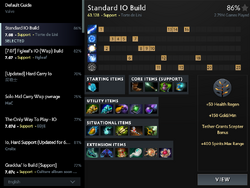 Guides (sometimes also called Hero Builds) are guides created by players, that can suggest items and highlight abilities to level. They can be created and shared by players either in-game or through the Hero Builds Editor.
"Hero Builds Editor" has been out of order, probably since 2014.
Changes
[
]