Fire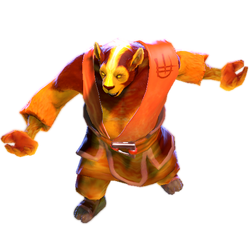 Ancient Creep-Hero
Abilities
[
]
Notes:

Permanent Immolation is an aura. Its debuff lingers for 0.5 seconds.
Deals 12.5/25/37.5 damage in 0.5 second intervals, starting 0.5 seconds after the debuff is placed.
Can deal up to 412.5/925/1537.5 damage to a single unit (before reductions) if it stays within range for its whole duration.
Notes:

Granted to all brewlings.
Brewmaster re-appears at the location of the brewling that used the sub-ability, instead of according to the order explained in Primal Split's notes.