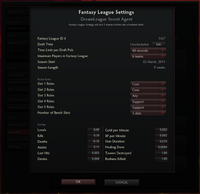 Fantasy Dota is a feature that lets players create their own team of professional players within a Fantasy League, and compete with other players in the league based on points earned by their team. Points are earned whenever a professional player participates in any Tournament match. It is similar to Fantasy Baseball.
Various in-game rewards can be earned by participating in Fantasy Dota. Dota Plus members may earn shards by participating in Fantasy Dota for the Dota Pro Circuit.
Seasons
[
]
General Information
[
]
Players can create one Fantasy League each after purchasing a ticket.
Players who have a ticket can join any number of leagues.
Each league can hold up to 10 members, therefore 10 teams.
After a league is created, players can invite friends for a timed Live Draft to select professional players for their Fantasy Teams.

Each professional player can only be drafted by one person.
Players who miss the drafting time will have randomly selected team members.
Members who miss the Live Draft will have random players picked by the system.
Players who have been kicked out of a league will have their Fantasy Season ticket refunded.
The system will automatically match teams in the same league against each other every week.
The team with the most points at the end of the week (Sunday at midnight) wins that round.
Settings, including scoring can be customized by the league commissioner (the player who created the league).
Valve provides an official web interface for tracking Fantasy statistics.
Roster
[
]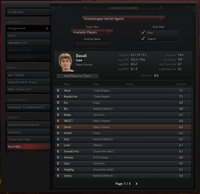 Each team can have up to 8 players.
Rosters can be changed once per day.

Team members are locked for the day once that individual has started scoring.
Roles
[
]
Professional players are categorized into Core and Support roles.
Roles do not affect scoring.
Each Fantasy Team must include the following combination of professional players by their roles:
| Active Roster | Bench |
| --- | --- |
| | |
Free Agents
[
]
Teams can drop a professional player from its roster and pick up another player that is not owned by any other team (a "free agent").
These requests are processed nightly.
Only one request can be active at a time.
If multiple teams attempt to pick up the same player, priority is given to the team with the worst record.
Player trading is not currently supported.
Scoring
[
]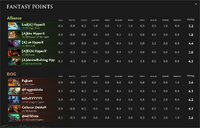 Each professional player will earn a score based on their in-game performance. After each match, a team's score is the total sum of all its 5 active members.
In a best-of-three series, each player earns points only for their highest-scoring games.
Winning or losing does not affect a player's score.
Stand-ins will not earn any points.
Matches played in Premium and Professional tournaments count towards players' scores.
By default, Premium tournaments count for 100% points and Professional Tournaments count for 25% points.
Default Score Chart
[
]
Score values can be customized by the league commissioner.
| Statistic | Points per |
| --- | --- |
| Kill | 0.3 |
| Death | -0.3 |
| Assist | 0.15 |
| Last hit | 0.003 |
| Gold per minute | 0.002 |
| Tower Kill | 1 |
| Roshan Kill | 1 |
| Team Fight | 3 |
| Wards Planted | 0.5 |
| Camps Stacked | 0.5 |
| Runes Grabbed | 0.25 |
| First Blood | 4.0 |
| Stuns | 0.05 |
History
[
]
External Links
[
]