Elder Titan
Elder Titan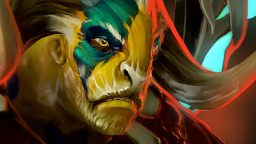 The Elder Titan is a melee strength hero who is renowned as a powerful area nuker and disabler.
Elder Titan is perhaps best known for his ability Astral Spirit, which sends forth an image of himself that damages enemies that it passes through, and upon returning to Elder Titan boosts his attack damage and movement speed, making him a fearsome melee fighter. Possessing a channeled sleep in Echo Stomp, Elder Titan is also capable of knocking out his foes for an extended period of time if they are caught within its radius; Astral Spirit also allows him to cast this ability and disable large groups of enemies from afar, making him one of the few initiators that does not require a Blink Dagger. This combination creates a perfect setup for his powerful ultimate Earth Splitter, which damages enemies based on their maximum HP and slows their movement speed. This, along with his ability to lower his enemies' physical and magical resistance with his Natural Order aura, makes Elder Titan scale well through his abilities and be effective at all stages of the game. As the progenitor of this world, Elder Titan reshapes the battlefield on a whim and can turn any teamfight in his favor.
Abilities
[
edit
]
Talents
[
edit
]
Recent Changes
[
edit
]
Recommended Items
[
edit
]
Starting items:
Early game:
Boots of Speed provides bonus movement speed to Elder Titan, allowing him to evade ganks by the enemy supports in the offlane early game, but also allows him to get in position for his spells more quickly. Also, it improves the mobility of Astral Spirit, which is based on Elder Titan's own movement speed.
Magic Stick allows Elder Titan to benefit from burst health and mana. In emergency situations, a full-charge Magic Stick can allow Elder Titan to cast any of his non-ultimate spells one more time, and can allow him to cast his ultimate provided that he is not completely out of mana.
Wind Lace gives small movement speed bonus to allow Astral Spirit to reach for more units; it can upgrade to Tranquil Boots and Eul's Scepter of Divinity later on.
Mid game:
Late game:
Rod of Atos provides good attributes to increase health and mana; the active root can set up Echo Stomp or Split Earth.
Lotus Orb provides armor and health regeneration to increase Elder Titan's tankiness, and mana regeneration to fuel his spell casting. Echo Shell can be cast on an ally to discourage the enemy from casting targeted spells on them, or on Elder Titan himself to increase his survivability when directly engaging the enemy in combat.
Shiva's Guard is a strong physical survivability item that gives Elder Titan more intelligence for casting spells and an active slow that benefits his abilities. Slowing the enemy down can make it harder for them to escape, allowing Elder Titan to catch up and apply his Natural Order aura, or can be stacked on top of a successful Earth Splitter to keep the enemy bunched up.
Situational items:
Gameplay
[
edit
]
| | |
| --- | --- |
| Roles: | Initiator Disabler Nuker Durable |
| Complexity: | ★★☆ |
| Playstyle: | Even the greatest of Titans err in their work. Trapped in his own flawed creation, the Worldsmith seeks forever to repair the fissured planes. His Natural Order reduces all to its base, disintegrating whatever defenses his foes layer themselves with. From a hidden plane, the Elder Titan summons his Astral Spirit, sending this ghostly form through bodies and past defenses. Once positioned, an Echo Stomp rings out from both Titan and spirit, knocking unconscious all in its wake. The battlefield cracks under the Titan's forge hammer, and a glimpse of creation is seen as the Earth Splitter rends the ground asunder. For what the Worldsmith makes, he can also unmake. |
History
[
edit
]
Equipment
[
edit
]
Gallery
[
edit
]