EHOME
EHOME
China
Created:
2004
Team Information
Captain:
Wang "old chicken" Zhiyong
Manager(s):
Zheng "Galahad" Feixu
Sponsor(s):
VPGame
GIGABYTE
Razer
Links
datdota:
4
DOTABUFF:
4
OpenDota:
4
Facebook:
ehomecn
Twitter:
EHOMECN
Weibo:
EHOME
Winnings
Prizemoney:
$3,220,845.38 USD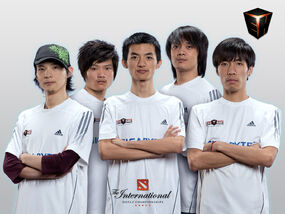 History
[
edit
]
Formation
[
edit
]
EHOME E-sports club was formed in March 2004. In 2007, EHOME's DotA division was formed as they took HTML under their tag.[1] EHOME was first known internationally in 2008 during the Asian Championship Games in Singapore, winning the championship with a star-studded roster comprising of legends 2009, Snoy, LongDD, GK, and DC.[2]
Period of Instability
[
edit
]
However, 2009 soon went inactive due to his studies and conflict with the management; LongDD departed shortly after.[3] LongDD then joined CaNt, initiating a swap of players between the two teams. 820 and 357 were picked up from CaNt to fill the two empty spots on EHOME's roster.[4]
Despite finally establishing a stable lineup, EHOME wasn't able to replicate their results. Constant disappointments led to DC's departure and Snoy's retirement. Subsequently, two players were signed, namely Dai and Ronaldo, who were relatively unknown at the time.[5] However, both were well-known as players from another Chinese MOBA, and high expectations were placed onto them in DotA. Despite these new additions, EHOME continued to perform badly, and Ronaldo was soon out. At the same time, 7L disbanded and their support DGC joined EHOME.
Just as EHOME was starting to show improvement, DGC, who was criticized for being disjointed with the team, left.[6] In addition, their captain GK, who was the last remaining member from 2008, decided to retire as well.[7]
The Golden Era
[
edit
]
KingJ and BurNIng, two of the biggest names in DotA at the time, eventually found their way into EHOME. They were heavily criticized as LGD, led by former member 2009, was performing extremely well. With ESWC Qualifiers coming up, EHOME decided to make a change; most notably, their captain and longtime carry 820 was switched to support.[8] Being an underdog to qualify for the ESWC, EHOME surprisingly showed solid team play, defeating PIS's Shadow Fiend in a game against CityHunter with a comeback. Afterwards, they faced the highly favored LGD, pulling off a surprise win to qualify for ESWC.
At ESWC in Paris, EHOME showed an invincible aura, crushing any teams in their way as they went undefeated and won the ESWC.[9] After ESWC, EHOME won several other competitions. During ESTC, EHOME reached the finals, but was unable to defeat Nirvana.my as Mushi's Puck took the limelight.[10][11] They were then favored to win the first edition of the World DotA Championship. However, they were surprised by DTS in the group stage, with Artstyle choosing a push strategy to counter them. Despite winning the rest of their group stage games, EHOME missed out on qualifying for the next round due to time ratings, and this became one of the biggest upsets of the year.[12] SMM 2010 was announced soon after. EHOME came out with a slow start, losing to Nirvana.cn in the group stage, but recovered in the second day, winning all their matches en route to becoming the champions. For the rest of 2010, the team consistently showed the same dominant form as they did at ESWC. EHOME completed their streak of 10 championships in a calendar year by winning 2011's World Gamemaster Tournament.
The Great Chinese Reshuffle
[
edit
]
Just as EHOME was at its peak, the Great Chinese Reshuffle happened. Two of EHOME's core players, BurNIng and KingJ, switched over to Team DK. Despite EHOME calling up new pubstar PLT and ex-player LongDD, they were unable to recover from their loss, initially earning second place in DMT before getting eliminated in the early rounds of subsequent tournaments.[13] During StarsWars 6, EHOME came back with a respectable performance to reach the finals, but was defeated horribly at the hands of LGD.
LongDD was replaced by Crystal (aka FCB) in preparation for The International. Odds were low for them at event, with most fans anticipating an early exit. However, EHOME shocked the DotA world with a stellar performance. They won most of their games in spectacular fashion and reached the finals, eventually losing 3-1 to Na`Vi to claim silver and a $250,000 share of the prize purse.
Decline
[
edit
]
At the conclusion of the tournament, 820 retired and FCB left the team; their replacements, Fabregas (ARS) and Perfect Cat (PCT), failed to meet early expectations. Despite a second place finish at Electronic Sports World Cup 2011, EHOME only managed third at WCG Asian Championships 2011 where they were highly expected to win. The performances led to the disbandment of EHOME's DotA division, and EHOME had to forfeit all their matches in The Defense.
Reformation
[
edit
]
The EHOME DotA team was reestablished in early 2012 with acquisitions of 357, KingJ, and Dai from Canis Lupus Campestris. They later welcomed back LaNm (formerly PLT) and PCT to finish the lineup. The newly formed EHOME retained 3 of the 5 players from the team that took 2nd place at The International, complementing them with an experienced veteran in KingJ, who was a member during the dominant run of 2010. To round out the five, they picked up an up-and-coming player in PCT. This roster enjoyed success in the first half of the year, winning JoinDOTA Masters VII in convincing fashion. The team participated the 2012 International, tying for 5th place.
In September 2012, PCT left the team.
In October 2012, Dai and QQQ left for Team DK. KingJ also decided to leave the team.
EHOME Reborn
[
edit
]
| | ID | Name | Position | Join Date |
| --- | --- | --- | --- | --- |
| | old chicken | Wang Zhiyong | 1 | 2016-09-07 |
| | Cty | Chen Tianyu | 2 | 2017-01-01 |
| | Faith_bian | Zhang Ruida | 3 | 2017-05-18 |
| | Hym | Xu Zhi | 4 | 2017-09-02 |
| | y` | Zhang Yiping | 5 | 2017-05-18 |
Former Players
[
edit
]
Former Players
ID
Name
Position
Join Date
Leave Date
New Team
Garder
Liu Xinzhou
4/5
2017-05-22
2017-09-02
LaNm
Zhang Zhicheng
4/5
2016-09-11
2017-05-22
Vici Gaming (Coach)
Sen
Hu Sen
3
2017-01-01
2017-05-18
Eclipse
jdh
Jiang Donghao
5
2017-01-01
2017-05-18
Eclipse
old eLeVeN
Ren Yangwei
3/Sub
2015-09-01
2017-03-24
PSG.LGD
Xi
Luo Yinqi
4
2017-01-01
2017-02-09
Sylar
Liu Jiajun
1
2016-09-07
2017-01-01
LaNm
Zhang Thicheng
4
2015-03-15
2017-01-01
EHOME (Coach)
Garder
Liu Xinzhou
5
2016-09-17
2017-01-01
TI6 Squad
ID
Name
Position
Join Date
Leave Date
New Team
iceiceice
Daryl Koh Pei Xiang
1
2015-09-01
2016-08-29
Team Faceless
old chicken
Wang Zhiyong
2
2015-09-01
2016-08-30
EHOME
eLeVeN
Ren Yangwei
3
2016-03-08
2016-08-30
EHOME
LaNm
Zhang Zhicheng
4
2015-03-15
2016-08-30
EHOME
Fenrir
Lu Chao
5
2016-03-08
2016-08-30
VGJ.Thunder
Former Players
ID
Name
Position
Join Date
Leave Date
New Team
Cty
Chen Tianyu
1
2015-05-01
2016-03-08
Vici Gaming
KaKa
Hu Liangzhi
4/5
2015-09-01
2016-03-08
Newbee
rOtK
Bai Fan
3
2015-03-15
2015-08-09
PSG.LGD
ddc
Liang Faming
5
2015-01-07
2015-08-26
PSG.LGD
Achievements
[
edit
]
References
[
edit
]