Diretide 2012 was a Halloween event that began on October 30th, 2012. It introduced a new game mode, as well as the Greevil courier.
Game Mode
[
]

There are 3 stages to Diretide, each lasting 10 minutes.
Candy Chaos
[
]
Compete against the enemy team in collecting the most Greevil Taffies.
Collect candy from Roshlings and deposit it in your candy bucket.
Go on a raid and steal the enemy's candy from their bucket.
After 20 minutes (after the 2nd stage), the team with the most candy wins!
The Trickster Awakens
[
]
All this ruckus has awoken Roshan from his slumber.
He will target a random hero, alternating between teams, and bully them for candy.
Keeping a piece of candy in your inventory is recommended as failure to feed Roshan will result in death.
Sugar Rush
[
]
After 20 minutes Roshan will be stuffed and you will be left candyless.
You must team up with the enemy and go after Roshan to reclaim your candy.
Defeating Roshan will reward you with items and delicious candy.
The fastest Roshan slayers will be immortalized in the Diretide Hall of Fame!
Greevil Egg
[
]
During the Diretide event, all players will receive a Greevil Egg after successfully defeating Roshan in Diretide. Once received, the Egg may be imbued with one of several Essences.
Golden Baby Roshan
[
]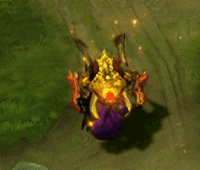 The fastest teams on the servers to kill Roshan received the very rare Golden Baby Roshan.
See also
[
]
External links
[
]