Dark Willow
Dark Willow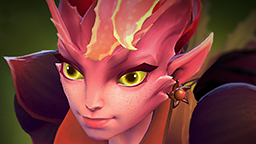 Mireska Sunbreeze, the Dark Willow, is a ranged intelligence hero with a powerful array of disables and nukes. She can summon a tangle of thorns to root enemies in her Bramble Maze, or curse an enemy to stun them after a delay with Cursed Crown. Slipping into the Shadow Realm to avoid attacks, she re-emerges with a powerful magical burst. Calling upon her companion Jex, Dark Willow dishes out a flurry of heavy magic damage with Bedlam, or sends her enemies fleeing in fear with Terrorize. This wide arsenal of disables and nukes allows her to gank, roam, and support with equal efficiency, making her indispensable in teamfights.
Abilities
[
edit
]
Talents
[
edit
]
Recent Changes
[
edit
]
Recommended Items
[
edit
]
Starting items:
Early game:
Boots of Speed increase movement speed to chase or escape.
Wind Lace helps Dark Willow keep up with enemies during ganks, and builds into Eul's Scepter of Divinity.
Magic Stick can save Dark Willow in an emergency by restoring health and mana.
Mid game:
Late game:
Scythe of Vyse provides a large damage boost and a strong single-target hex to complement her natural AoE disables.
Guardian Greaves protects Dark Willow with dispel and heal when she is ganking with Bedlam.
Situational items:
Gameplay
[
edit
]
| | |
| --- | --- |
| Roles: | Support Nuker Disabler Escape |
| Complexity: | ★★☆ |
| Playstyle: | Mireska Sunbreeze is a devious rebel for whom deceit and backstabbing are but business norms. Her Fae heritage lets her to slip into the Shadow Realm, avoiding attacks while entrapping victims in a thorny Bramble Maze. She lays a Cursed Crown on her foes, stunning them no matter where they run. The Dark Willow's companion wisp is no less to fear. Jex circles its mistress, creating total Bedlam before tapping into primal fears to Terrorize enemies into submission. |
History
[
edit
]
Equipment
[
edit
]
Dark Willow is sometimes labeled in the game files as Sylph and Fairy, her early working names.
Dark Willow's accent is heavily based on those found in Celtic and Gaelic countries, mostly Wales, Ireland and Scotland.
Gallery
[
edit
]
External links
[
edit
]