Dark Seer
Dark Seer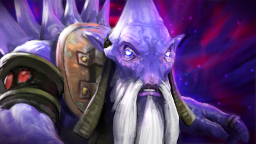 Ish'kafel, the Dark Seer, is a melee intelligence hero who relies on his abilities' potent utility and synergy. In lane he is sustained by high armor and enabled by his Ion Shell and Surge. Surge boosts his or an ally's speed, helping them to escape or pursue opponents. Ion Shell wraps a unit in a spiky shield that rapidly damages nearby enemies, enabling Ish'kafel to harass and gain last hits. These abilities also make him an efficient jungler and therefore a natural semi-carry, usually focused on building utility items.
Dark Seer's greatest damage is done during teamfights and comes from the combination of his final two abilities. Vacuum makes for powerful initiations. It sucks in nearby enemies, briefly disabling them and making them susceptible to area of effect spells—such as his Wall of Replica. The wall slows his foes and creates replicas of any enemy heroes that cross it, high-damage illusions that Dark Seer can control. A subtle hero, Ish'kafel's dark energies can be deadly in the right hands.
Abilities
[
edit
]
Talents
[
edit
]
Recent Changes
[
edit
]
Recommended Items
[
edit
]
Starting items:
Early game:
Mid game:
Late game:
Guardian Greaves restores both health and mana to team; the health regeneration and armor aura works better on wounded allies.
Shiva's Guard grants you more punch to your Vacuum and Wall of Replica initiation, and gives you armor and intelligence.
Lotus Orb removes debuffs from Dark Seer or an ally, as well as granting Echo Shell to reflect spells.
Situational items:
Gameplay
[
edit
]
| | |
| --- | --- |
| Roles: | Initiator Jungler Escape Disabler |
| Complexity: | ★☆☆ |
| Playstyle: | In a final, calculated move, Ish'Kafel led his outnumbered army into a new world, sealing the path behind with a burst of dark energy. A cunning tactician, the Dark Seer manipulates gravity to pull foes into a Vacuum, drawing them into the prismatic thorns of his Ion Shell. Armed only with his intellect, he Surges across the land to survey every point of conflict. At strategic locations Ish'Kafel places a Wall of Replica, sowing confusion amongst enemy ranks as an army of duplicates emerge to do battle against their own likenesses. |
History
[
edit
]
Equipment
[
edit
]
Dark Seer's response, "Speed is the heart of battle." is an indirect quote of Chinese military strategist Sun Tzu, who said "Quickness is the essence of war."
Dark Seer's response, Link▶️ "No, I will not calm my beard." is a response to Beastmaster's and Clockwerk's rival hero taunts, both voiced by Sam A. Mowry.
Dark Seer's Vacuum's lore is based on the military term, center of gravity, which is a concept developed by Carl Von Clausewitz, a Prussian military theorist, in his work On War.
Normal Punch makes numerous references to the anime One Punch Man.

The name of the ability references the protagonist's move "Consecutive Normal Punches".
The particle effects include a giant red fist striking the enemy, which looks like the fists of the protagonist.
The particle effect generally has an anime-style theme to it, with the static lines and whirls, the haloes, and the japanese floating texts, which are the japanese equivalents of "Pow!".

The effect of Normal Punch punching an illusion out of the body may be a reference to the scene in Doctor Strange in which Doctor Strange's "astral form" is getting separated from his physical form.[1]
Gallery
[
edit
]
References
[
edit
]