Competitive scene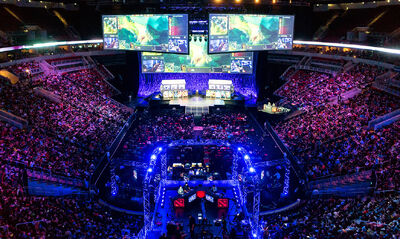 Dota 2 is played competitively around the world. Professional teams attend tournaments sponsored by companies, organizations, and Valve itself. Players who have purchased access to tournaments may view matches and voice commentary with DotaTV, a spectating feature built into the Dota 2 client. Live match streaming is also available on various community websites.
The history of competitive Dota began in 2004, and has since continued to evolve, with new players and strategies emerging onto the scene. As of The International 2015, professional Dota 2 is the highest paying esport in the world.
Recent Tournaments
[
edit
]
For a full list of tournaments, see the main article:
Tournaments

This article or section contains incomplete or outdated information. Please help the community by updating it.
 

Kiev Major 2017

30 April 2017

$3,000,000
OG
Virtus.pro
Evil Geniuses
Invictus Gaming

 

The International 2017

12 August 2017

$24,787,916
Team Liquid
Newbee
LGD.Forever Young

 

ESL One Hamburg 2017

26 October 2017

$1,000,000
Virtus.pro
Team Secret
Team Liquid
Newbee

 

DreamLeague Season 8

1 December 2017

$1,000,000
Team Secret
Team Liquid
Evil Geniuses

 

EPICENTER XL

27 April 2018

$1,000,000
PSG.LGD
Team Liquid
FlyToMoon

 

China Dota2 Supermajor

2 June 2018

$1,500,000
Team Liquid
Virtus.pro
PSG.LGD
Premium tournaments
[
edit
]
Finished
[
edit
]
 DreamLeague Season 7

21 July 2017

$243,000
Team Liquid
Planet Odd
Team Secret

 The Final Match 2017

7 July 2017

$50,000
Alliance
SG e-sports
Team Spirit

 Mars Dota 2 League 2017

5 July 2017

$250,000
PSG.LGD
LGD.Forever Young
Newbee

 Dota Summit 7

14 June 2017

$100,000
Virtus.pro
Team Secret
PSG.LGD

 Galaxy Battles

14 June 2017

$150,000
Newbee
Planet Odd
TNC Pro Team

 EPICENTER 2017

9 June 2017

$500,000
Team Liquid
Evil Geniuses
Team Secret
LGD.Forever Young

 ZOTAC Cup Masters

30 May 2017

$100,000
Newbee
Team NP
iG Vitality
Fnatic

 The Manila Masters

26 May 2017

$250,000
Evil Geniuses
Newbee
Team NP

 SL i-League Invitational S2

18 May 2017

$100,000
Team Liquid
TNC Pro Team
Newbee
Invictus Gaming

 Mr. Cat Invitational Europe

18 May 2017

$50,000
Virtus.pro
Team Empire
Team Secret

 Asia Championships 2017

4 April 2017

$500,000
Invictus Gaming
OG
Newbee

 SL i-League StarSeries S3

26 February 2017

$300,000
Team Liquid
VGJ.Thunder
OG
TnC Gaming

 Elimination Mode 3.0

11 February 2017

$25,000
OG
compLexity Gaming
Team Onyx
Alliance

 Dota Pit League Season 5

22 January 2017

$125,000+
Evil Geniuses
OG
Team Faceless

 WESG 2016

15 January 2017

$1,500,000
TNC Gaming
Cloud9
Alliance

 ESL One Genting 2017

8 January 2017

$250,000
Digital Chaos
Newbee
Wings Gaming

China Top 2016

17 December 2016

¥1,600,000
Evil Geniuses
Newbee
Digital Chaos
Wings Gaming

 World Cyber Arena 2016

16 December 2016

$1,500,000
iG Vitality
Vici Gaming
We Are Young

 DreamLeague Season 6

26 November 2016

$185,000
Team Liquid
Escape Gaming
Alliance

 The Summit 6

20 November 2016

$100,000
Virtus.pro
OG
Evil Geniuses

 ROG MASTERS

13 November 2016

$100,000
Team Secret
Execration
EHOME.X
Mineski

 NA BEAT Invitational

13 November 2016

$100,000
Wings Gaming
Team NP
EHOME

 MarsTV Dota 2 League Autumn

2 October 2016

$250,000
Evil Geniuses
Newbee
OG

 MPGL SEA Championship

11 September 2016

$50,000
Execration
MVP Phoenix
Mineski
Players
[
edit
]
The highest earning[1] professional players:
01. KuroKy ($4,097,204.81)
02. N0tail ($3,725,818.95)
03. Miracle ($3,671,337.28)
04. MinD_ContRoL ($3,438,411.76)
05. MATUMBAMAN ($3,438,116.04)
06. JerAx ($3,306,463.82)
07. SumaiL ($2,666,991.94)
08. GH ($2,483,653.78)
09. UNiVeRsE ($2,937,956.27)
10. ana ($2,852,071.18)

Commentators
[
edit
]
References
[
edit
]