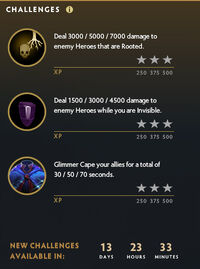 Challenges are quests exclusive to Dota Plus subscribers. Each hero has its own set of challenges, which can be completed to earn hero levels.
General information
[
]
Completing a challenge earns experience points towards a hero's level.
Three challenges are available at a time.
Each challenge has three difficulty tiers that reward increasing amounts of experience.
Challenges can only be completed if the match is won.
Challenges can be refreshed once every two weeks.
Challenge progress is not cumulative through multiple matches unless specified.
List
[
]