Broodmother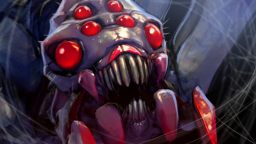 Hunts with her army of Spiderlings.
Inhabiting the lava tubes below the caldera of Mount Pyrotheos, Black Arachnia grew tired of recent adventurers stepping on her many offspring. And so, the Broodmother set out to rid the world of every potential intruder, one hero at a time. Warm bodies make ideal nurseries, a fact not lost on Black Arachnia as she injects her eggs into dying foes to

Spawn Spiderlings

. Across patches of land she

Spin Webs

of

Silken Fiber

, sheltering herself within to recuperate injuries or laying down

Snares

to catch her prey. Driven by

Insatiable Hunger

, the Broodmother goes into a feeding frenzy. Paralytic venom drips from her fangs, crippling and blinding her prey with each incapacitating bite, sucking the vital fluids from wandering heroes to replenish herself for the next spawn cycle.
Roles:
Carry Pusher Escape Nuker
Complexity:
★★☆
Bio
[
]
Abilities
[
]
Spin Web Ability
[
]
Spiderling Abilities
[
]
Talents
[
]
Recent Changes
[
]
Recommended Items
[
]
Starting items:
Early game:
Soul Ring allows her to use Spawn Spiderlings more often without fear of running out of mana to harass the enemies, take last hits, and amass Spiderlings.
Magic Wand gives attributes and restores health and mana in burst, keeping Broodmother healthy to continue making Spiderlings.
Medallion of Courage increases mana regeneration so Broodmother can continue to spawn spiderlings and it's active helps to hasten farm speed.
Mid game:
Aghanim's Scepter increases the maximum number of Spin Web charges to 18 and increases the movement speed bonus applied by her webs. This typically removes the need for boots as the movement speed granted by her webs is more than enough.
Solar Crest bolsters Broodmother defense with armor and attributes. Its active ability helps Broodmother and Spiderlings tear down neutral creeps and enemy heroes by lowering their armor.
Black King Bar prevents Broodmother from being affected by most stuns allowing her to continue to attack her enemy and benefit from the amplified damage and lifesteal of Insatiable Hunger to keep Broodmother alive in team fights.
Late game:
Situational items:
Gameplay
[
]
Audio
[
]
History
[
]
Equipment
[
]
Trivia
[
]
In her DotA biography, Broodmother's spiderlings originated from her relationship with Anub'arak, the Nerubian Assassin ( Nyx Assassin). In Dota 2, no relationship between the two heroes exists.
Broodmother is sometimes called by her nickname, "Broodmama".
Broodmother's name, Black Arachnia, resembles the name of the character Blackarachnia from the Transformers franchise.
Gallery
[
]