Bristleback
Bristleback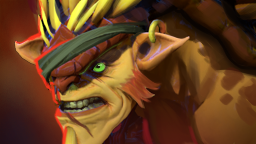 | Level | 0 | 1 | 15 | 25 | 30 |
| --- | --- | --- | --- | --- | --- |
| Health | 200 | 640 | 1440 | 2260 | 2600 |
| Health regen | 0 | 2.2 | 6.26 | 10.36 | 12.01 |
| Mana | 75 | 243 | 711 | 1191 | 1383 |
| Mana regen | 0.25 | 0.95 | 2.91 | 4.91 | 5.71 |
| Armor | 1 | 3.83 | 8.03 | 13.03 | 14.87 |
| Att/sec | 0.56 | 0.65 | 0.79 | 0.96 | 1.02 |
| Damage | 30‒36 | 52‒58 | 92‒98 | 133‒139 | 150‒156 |
Rigwarl, the Bristleback, is a melee strength hero famous for his array of synergistic, simplistic, and yet effective spells with low mana costs and cooldowns. Though each cast of his spells has relatively weak potency on its own, their instances have a cumulative effect, making the Bristleback quite deadly the longer he stays alive in a fight; this is directly reflected in his ultimate, Warpath, which powers up his movement and attack damage based on the number of spells he recently cast. He is able to increasingly slow his enemies down and reduce their armor with Viscous Nasal Goo and hit them with a barrage of Quill Sprays, making him an effective chaser when ganking enemies. His low strength gain makes him seem less tanky than most strength heroes at first glance, but his signature Bristleback passive substantially reduces all damage he takes from the sides and especially the rear, making him very difficult to bring down if he's facing away from his enemies. In the right hands, Bristleback is a powerful ganker in the early stages of the game, and a powerful hard carry in the later stages depending on how much farm he gets.
Abilities
[
edit
]
Talents
[
edit
]
Recent Changes
[
edit
]
Recommended Items
[
edit
]
Starting items:
Tango keeps Bristleback healthy in lane.
Enchanted Mango gives passive health regeneration and burst mana when needed.
Early game:
Mid game:
Late game:
Lotus Orb further bolsters defense with armor and health regeneration. Echo Shell can also dispel silences that plague Bristleback, while reflecting many targeted spells back to enemy casters. The mana and mana regeneration also help him to continuously cast Viscous Nasal Goo and Quill Spray.
Shiva's Guard is another large armor item, and it fixes any mana issues Bristleback can have. The active ability also gives Bristleback more presence in teamfights, damaging and slowing enemies in a huge area.
Heart of Tarrasque grants a huge amount of health and gives you significant regeneration. It helps in siege situations, where you can soak up lots of damage and then wait a short time to be back at full health. The immense health boost allows Bristleback to use the passive Quill Spray to their full potential, as he can tank significantly more, retreat to heal up and then repeat.
Situational items:
Gameplay
[
edit
]
| | |
| --- | --- |
| Roles: | Carry Durable Initiator Nuker |
| Complexity: | ★☆☆ |
| Playstyle: | The enforcer at a local pub, Rigwarl's never failed to collect a tab. That is, until he met one tough customer from the north. For the first time in his life, Rigwarl felt the need to train. His thorny back deters attack while peppering foes with constant Quill Sprays. From his nose he blows thick gobs of snot, slowing and covering opponents in Viscous Nasal Goo. With every volley and every sneeze, Rigwarl works himself into a fury, adding rage to each blow as he goes on the Warpath in search of a rematch. |
History
[
edit
]
Equipment
[
edit
]
In DotA, Bristleback's hero model was a quillboar, having a much more boar-like appearance. His loss of boar-like features in Dota 2 was likely made to distinguish him from the quillboar race in the Warcraft universe. [1] As well, his hero title shares the name of a large quillboar tribe in World of Warcraft. [2]

Beta information revealed that Bristleback's original name was supposedly to be "Bristlebog", probably to avoid conflict with the aforementioned Bristleback tribe in World of Warcraft.
According to an unused voice response, Bristleback was originally designed with tusks.[1]

A silhouette of what appears to be Skywrath Mage can be seen in Bristleback's splash artwork, seemingly still having a beta model/texture.
Gallery
[
edit
]
References
[
edit
]