Bloodfeather Feast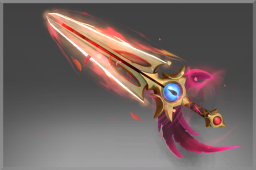 ---
The strike of Akasha's blade is boon to the unkind wings that eagerly await her torments from aloft.
Released
Origin
Customizations
[
]
1 Queen of Pain holds her weapon slightly lower compared to her default loadout animation.
2 Five crows are seen on debuffed heroes, while two crows are seen on debuffed creeps.
3 The sound only plays when targeting heroes.
Ability Icon
[
]
Gallery
[
]
Trivia
[
]
Patch History
[
]
Updated default hero model and animations (both default and Arcana), and Bloodfeather Feast loadout animations.