BladeBiter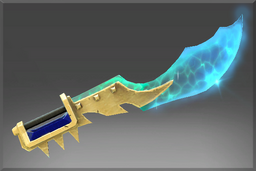 ---
Sharp as shark's teeth, and strong as Claddish steel, the great sword Bladebiter is an asset to any sailor facing battle.
Created By

Released
Origin
This item comes in Genuine quality with purchase of the Kunkka T-shirt from the Valve Store. It was also once craftable in Normal quality with Recipe: BladeBiter.
Gems
[
]
Customizations
[
]
1 Animation is bound to both BladeBiter and Kinetic: Bladebiter's Strike. It will remain even if the Kinetic Gem is removed.
2 Has a lighter shade of blue compared to the default effect.
Gallery
[
]