Black Spider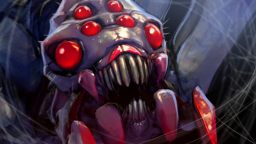 Itsy, The Black Spider was a hero which was removed in the 4.0beta2 gameplay patch.
Bio
[
]
Itsy, The Black Spider
Lore:
Melee Hero. Can learn, Entrapment, Life Drain, Poison Sting and Summon Crypt Master.
Abilities
[
]

Afflicts a target enemy unit with a deadly parasite that deals damage over time. If the afflicted unit dies while under the effect of Parasite, spider hatchlings will spawn from it's corpse
Damage per Second:
10/20/30

10

75

Modifiers
Notes:

Parasite' projectile travels at a speed of 1900.
Parasite first applies the debuff, then the damage.
Spiders only spawn when the targeted unit dies while having the debuff on.
It does not matter who kills the target, if it dies in any way, the Spiderlings spawn.
The amount of spiders spawned is based on the level of the ability as the spawn happens, and not on what level it was upon cast.
Notes:

The projectile travels at a speed of 1500.
Roots the target, preventing it from moving and casting certain mobility spells.

Absorbs the life essence of a target enemy unit by taking hit points from it every second and giving them to the Black Spider.
Notes:

The links break when the targets turn invulnerable or hidden, exceed the break distance, or run out of health.
The health restored equals the amount of damage dealt per tick after all reductions.

This means if the damage instance gets increased or reduced, it heals for increased/reduced values.
Drains 1.5625/3.125/4.6875 health in 0.25-second intervals, starting 0.25 seconds after cast, resulting in up to 16 instances.

Summons a powerful spider.
Notes:

The Crypt Masterspawns 200 range away from Conjurer. It appears either north, east, south or west from him.
Does not destroy a previous summon if this ability is used again before the previous Dragons expires.

Magically binds a target enemy unit, so that it cannot move or attack for 9 seconds.
Cast Animation:
0.47
+
0.56

30

75

Modifiers
Notes:

* This ability belonged to the Crypt Master
Provides True Sight over the target, but only when the target was not invisible or within a fade time upon cast.
Notes:

This ability belonged to the Crypt Master

Stops the unit from auto-acquiring enemies, allowing it to Shadowmeld and remain unseen at night.

14

125

Modifiers
Notes:

This ability belonged to the Crypt Master
Replaced Abilties
[
]
Notes:

This ability was replaced by

Lua error in Module:Ability_ID at line 61: Could not find Cargo data for "Parasite".

in the 0.95 gameplay patch.
The damage ticks in 1 second intervals, starting immediately as the debuff is placed, resulting in 12/15/17 damage ticks.
The debuff from successive attacks does not stack, only the duration is refreshed.
Version history
[
]