Beastmaster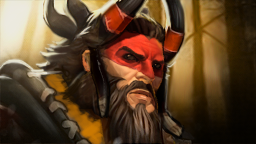 Summons beasts to aid his hunt.
Raised in the royal menagerie of Slom, Karroch learned to converse with beasts from a young age. With this unique talent, the Beastmaster is able to summon to his side a trusty poison-spitting

Boar

and a scouting

Hawk

. In addition to his companions, Karroch has mastered the art of throwing

Wild Axes

, cutting down trees and foes before returning to his hands. The Beastmaster awakens the

Inner Beast

of nearby allies, increasing their attack speed. Should an enemy attempt to flee, Karroch lets loose a piercing

Primal Roar

, incapacitating the target and clearing the path to its demise.
Roles:
Initiator Disabler Durable Nuker
Complexity:
★★☆
Bio
[
]
Abilities
[
]
Boar
[
]
Hawk
[
]
Talents
[
]
Recent Changes
[
]
Recommended Items
[
]
Starting items:
Tango allow you to stay longer in lane without having to return to the fountain.
Iron Branch is a very cheap item that provides a bit of attributes; use with Tango for more heal.
Healing Salve heals Beastmaster to keep him in lane.
Early game:
Magic Stick provides burst health and mana, useful to sustain Beastmaster.
Boots of Speed offers additional movement speed to get Beastmaster in cast range of his abilities.
Mid game:
Magic Wand grants some attributes and even more burst health and mana than Magic Stick.
Tranquil Boots gives health regeneration and large movement speed bonus, easing Beastmaster's initiation with Primal Roar.
Blink Dagger adds mobility and allows Beastmaster to engage on slippery targets to cast Primal Roar.
Late game:
Refresher Orb allows you to use Primal Roar two times in quick succession. It will also allow you to summon an extra boar and hawk.
Black King Bar increases survivability of Beastmaster with spell immunity and strength, so he can contribute with Wild Axes and Inner Beast which improve overall damage output during fights.
Situational items:
Gameplay
[
]
Audio
[
]
History
[
]
Equipment
[
]
Trivia
[
]
Beastmaster's original name was Rexxar, a character in the Warcraft universe.

Rexxar was the main playable character of the bonus campaign in Warcraft III: The Frozen Throne.

Beastmaster's item the "Shrieking Razorback" design seems to be based on the Shriekers from Tremors II: Aftershocks.[1]
Beastmaster's lines Link▶️ Link▶️ "Basshunter, on the hunt" are a reference to Swedish singer Basshunter, who has a song about DotA.
Gallery
[
]
References
[
]