Bash is a passive ability that gives a unit a chance to stun its target on attack. Most bashes also include some extra damage upon proc. This damage is usually directly added to the attacking unit's attack damage. If it is directly added to the attack damage, the unit can lifesteal off of it and it is affected by attack damage reduction. However, it cannot crit or cleave and is not affected by attack damage increasing effects, damage block or magical damage barriers.
Stacking
[
]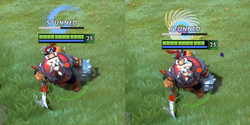 Multiple sources of bash do not stack, they proc independently from each other sources. When obtaining multiple items with the bash ability, only the one that has been continuously the longest in the inventory will proc the bash.
Although heroes with abilities that uses the bash mechanic are allowed to purchase items which provide bash (i.e. Skull Basher or Abyssal Blade), they are unable to proc bash from these items. For example:
Sources of Bash
[
]
Talents
[
]
Reliable
[
]
The following abilities involve a bash mechanic, although they are not triggered as a chance on attack.
Reliable Bash Sources
Base Duration

: 0.6 (

1.2)

Level Multiplier Bash Duration Bonus

:

1.8

Cooldown

: 16/12/8/4

Attacks with a guaranteed bash with damage over time.
Does not pierce spell immunity.

Time Lock Radius

:

400

Applies a Time Lock proc to all units at the landing destination.

Radius

: 300

Any unit which comes within 300 radius of Spirit Breaker during the charge gets hit by Greater Bash based on its current level.

Greater Bash based on its current level is instantly applied on the target.

Required Hits

: 4

Damage

: 50/100/150/200 (

110/160/210/260)

Stun Duration

: 1/1.1/1.2/1.3

Attacks with a guaranteed physical damage bash after 3 attacks.
Pierces spell immunity.

Bash Duration: 1
The next attack which connects with a unit applies the bash.

Stun Duration: 0.25
Rockets that hit the nearest visible heroes within range bashes the target.
Recent Changes
[
]