Bane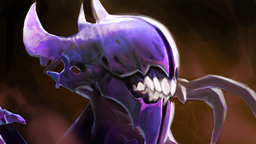 Puts his enemies to sleep, incapacitating them.
Formed from the ichor of Nyctasha, Atropos is the vaporous embodiment of pure fear. Sheer terror

Enfeebles

his enemies, diminishing their efficiency on the battlefield. The Bane Elemental puts heroes to sleep, sending them into a restless and contagious

Nightmare

as he feeds on their vital energies through

Brain Sap

. Some will never wake. Caught in the

Fiend's Grip

, Bane's victims can only swing at imagined phantoms as fear chokes the life from their bodies.
Roles:
Support Disabler Nuker Durable
Complexity:
★★☆
Bio
[
]

Atropos, the Bane
When the gods have nightmares, it is Bane Elemental who brings them. Also known as Atropos, Bane was born from the midnight terrors of the goddess Nyctasha. A force of terror too powerful to be contained by sleep, he surfaced from her slumbers, fed upon her immortality, and stole his vaporous form from her inky blood. He is the essence of fear. Mortals who hear his voice hear their darkest secrets whispered in their ear. He calls to the hidden fear in every Hero's heart. Wakefulness is no protection, for Bane's black blood, continuously dripping, is a tar that traps his enemies in nightmare. In the presence of Bane, every Hero remembers to fear the dark.
Abilities
[
]

Lowers the enemy's total attack damage, cast range, and regeneration.
Cast Range:
800/900/1000/1100
Attack Damage Reduction:
45%/50%/55%/60%
Health Restoration Reduction:
45%/50%/55%/60%
Cast Range Reduction:
30%

modifier_bane_enfeeble_effect
Each tendril of fear that Atropos weaves increases the vulnerability of his victims to arcane and unknown arts.
Notes:

Multiple casts on the same target do not stack the debuff, but only refreshes the duration.

Feasts on the vital energies of an enemy unit, healing Bane and dealing damage.
Causes Brain Sap to become a 550 AoE spell. Secondary targets only heal for 25%.
Atropos finds no greater pleasure than to harvest the fear he creates.
Notes:

Despite the visual effects, the heal happens instantly after the damage is dealt, there is no travel time.
The heal amount is based on how much damage the target took from Brain Sap, amplifying or reducing the damage affects the heal value.
Aghanim's Shard adds a

550

radius to this ability. The ability must be centered over a unit still.

Can target invisible units and units inside the Fog of War.
From secondary targets, it can only heal for

18.75

/

37.5

/

56.25

/

75

(

68.75

/

87.5

/

106.25

/

125

) health.

Puts the target enemy or friendly Hero to sleep. Sleeping units are awakened when damaged. If the target was directly attacked, the Nightmare passes to the attacking unit. Bane can attack nightmared targets freely. Enemy Units take Pure Damage Per Second while in Nightmare.
Cast Range:
425/500/575/650
Damage per Second:
5/15/25/35
Invulnerability Duration:
1

165
Debuff and invulnerability persist if placed before spell immunity and when not dispelled.

Blocked when primary target.
Blocked upon attacking a unit affected by an enemy Nightmare.

modifier_bane_nightmare_invulnerable
Bane keeps his innate ability to attack Nightmared units.
The drafting hero and their illusions can attack Nightmared units as well.
A stolen prowess from the goddess Nyctasha is to put his prey into forever sleep.
Notes:

Applies a sleep on affected units, preventing them from acting.
Nightmare turns affected targets invulnerable for 1 second, preventing affected units from waking up.
Nightmare reduces affected enemy unit's vision to 200.
Deals damage in 1-second intervals, starting 1 second after cast, resulting in up to 4/5/6/7 instances.

Can deal up to 20/75/150/245 damage to enemy targets, considering the default duration (before reductions).
The target wakes up when a unit starts attacking it (including manual casting of active attack modifiers), or when the target takes damage.
The target does not wake up when taking damage from certain sources and under a few rare circumstances:
Enemy targets do not wake up from Nightmare's own damage per second.
When waking up with an attack, the Nightmare is transferred to the attacking unit at the start of an attack, not when the attack hits.
When Nightmare is transferred, its duration is refreshed, including the 1 second invulnerability.
Bane and illusions of him (regardless of their owner) can deal attack damage to Nightmared units without waking them up or transfering the Nightmare to them.

This is innate to Bane, and does not apply to other heroes who use this ability (acquired via Spell Steal or Morph).
Since this only applies to attack damage, other sources of damage still wake the target up (e.g. Chain Lightning procs).
As long as a unit is affected by Nightmare from Bane, Nightmare is replaced by the Nightmare End sub-ability which allows Bane to wake the unit up.
Nightmare's invulnerability status effect uses the default invulnerability icon, instead of its own ability icon.

Ends all ongoing Nightmares.

0
Notes:

Replaces Nightmare until there is no Nightmare debuff from Bane active.
Can wake a unit up at any time during a Nightmare, even during the 1 second invulnerability.
Wakes up all units which were put asleep by Nightmare, no matter who put them asleep.

Grips an enemy unit, disabling it and causing heavy damage over time, while stealing mana every 0.5 second based on the unit's maximum mana.
Damage per Second:
70/110/150
Reduces Fiend's Grip cooldown by 45 seconds. Fiend's Grip now creates two uncontrollable illusions that are also channeling Fiend's Grip on the target. Illusions takes 200% incoming damage and immediately die if they are interrupted. Damage does not stack.

Victims of Atropos are frequently torn apart by vivid conjurations of their own nightmares.
Notes:

Deals 35/55/75 damage and drains 2.5% (

5%

) mana in 0.5-second intervals, starting immediately as the channeling begins, resulting in up to 10/11/12 (

20

/

21

/

22

) instances.

Can deal up to 350/605/900 (

700

/

1155

/

1650

) damage (before reductions).
Can drain up to 25%/27.5%/30% (

50%

/

52.5%

/

55%

) of the target's maximum mana.
Applies the damage first on each interval, and then the mana loss.
Unlike other targeted abilities, the caster vision of Fiend's Grip lasts for the entire channel duration (even if it gets canceled), instead of just 2 seconds.
With Aghanim's Scepter,

2

illusions spawn 400 range towards Bane's right and left side, facing towards the target whenever casting Fiend's Grip.

The illusions are able to cast abilities, and are automatically ordered to cast Fiend's Grip on the same target, with an instant cast time.
The illusions can be given any orders normally, except for item cast orders. Doing so cancels the channeling and kills the illusion.
The illusions' Fiend's Grip places a different modifier than the real hero does. This modifier only stuns the target if the real hero's modifier is present.
However, as soon as the real hero's modifier disappears, the illusions' modifier continues dealing damage and draining mana in its place.
In this case, the damage and mana drain is sourced to the illusion, not to Bane.
The illusions have a maximum duration of

20

seconds, hard-capping the maximum time they can spend channeling.
Since the illusions are actually casting Fiend's Grip as well, this upgrade does not work for heroes who do not have Fiend's Grip (e.g. Spell Reflection).
Talents
[
]
Notes:
The magic resistance talent stacks multiplicatively with other sources of magic resistance.

Increases Bane's magic resistance to 34%.
Recent Changes
[
]
Reduced Fiend's Grip max channel time from 6 on each level to 5/5.5/6.
Level 25 right talent: +150 Brain Sap damage/heal increased to +200.
Level 10 right talent: +6 armor reduced to +5.
Recommended Items
[
]
Starting items:
Early game:
Core items:
Situational items:
Gameplay
[
]
Audio
[
]
History
[
]
Equipment
[
]
Trivia
[
]
Gallery
[
]