Attack animation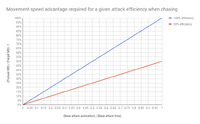 Every unit in Dota 2 has an attack animation. This is a period of time required to perform an attack. During this time the unit generally cannot perform any other actions simultaneously, including moving. There are two components: a foreswing (or attack point), which takes place before an attack lands, and a backswing, which takes place after. The animations can be manually canceled by players, but AI units generally do not. The backswing can be canceled with no consequences, so it is always preferable to do so. However, canceling the foreswing will cancel the attack. Different heroes have different animation times, which affect their abilities to last-hit, deny, and attack enemy units when chasing.
Unlike cast animation, losing vision doesn't cancel attack animation.
Both attack point and attack backswing are reduced by the increased attack speed (IAS), where IAS is a percentage between -0.8 and 7.0 (as of 7.20).
The formula can be defined as
With A being the index of Attack Point or Attack Backswing, b being the Base Attack Point or Base Attack Backswing and i being the index of the Increased Attack Speed (IAS). Arctic Burn, Witch Blade and Quicksilver Amulet are the only exceptions that increases attack projectile speed (by 500, 60, 300 and 30% respectively), the speed of ranged attack projectiles cannot be altered. They can neither be hastened up, nor slowed down. Currently attack animation can only be changed by Quicksilver Amulet with +40% Attack Animation Speed.
A unit's attack speed is completely independent of its attack animation.
The attack animation strictly refers to the delay between when an attack order is issued and when the attack is launched. For example, if a unit has an attack time of 1 second, an attack point of 0.3 seconds, and an attack backswing of 0.5 seconds, they will be idle for 0.2 seconds during every attack cycle.
Even if the attack backswing is canceled after 0.2 seconds, the idle period is extended to 0.5 seconds. However, during that idle period, other commands can be issued such as moving or casting spells.
In other words, canceling your animation does not allow you to attack faster.
Attack animations of heroes
[
edit
]
Hero
Attack Range
Attack Point
Attack Backswing
Projectile Speed
Abaddon

Melee

0.56
0.41
-
Alchemist

Melee

0.35
0.65
-
Ancient Apparition
675
0.45
0.3
1250
Anti-Mage

Melee

0.3
0.6
-
Arc Warden
625
0.3
0.7
900
Axe

Melee

0.4
0.5
-
Bane
400
0.3
0.7
900
Batrider
375
0.3
0.54
900
Beastmaster

Melee

0.3
0.7
-
Bloodseeker

Melee

0.43
0.74
-
Bounty Hunter

Melee

0.59
0.59
-
Brewmaster

Melee

0.35
0.65
-
Bristleback

Melee

0.3
0.3
-
Broodmother

Melee

0.4
0.5
-
Centaur Warrunner

Melee

0.3
0.3
-
Chaos Knight

Melee

0.5
0.5
-
Chen
650
0.5
0.5
1100
Clinkz
625
0.4
0.3
900
Clockwerk

Melee

0.33
0.64
-
Crystal Maiden
600
0.45
0
900
Dark Seer

Melee

0.59
0.58
-
Dark Willow
475
0.3
1
1200
Dawnbreaker
150
0.46
900
Dazzle
550
0.3
0.3
1200
Death Prophet
600
0.5
0.51
1000
Disruptor
625
0.4
0.5
1200
Doom

Melee

0.5
0.7
-
Dragon Knight

Melee

0.5
0.5
-
Drow Ranger
625
0.5
0.3
1250
Earth Spirit

Melee

0.35
0.65
-
Earthshaker

Melee

0.467
0.863
-
Elder Titan

Melee

0.35
0.97
-
Ember Spirit

Melee

0.4
0.3
-
Enchantress
575
0.3
0.7
900
Enigma
500
0.4
0.77
900
Faceless Void

Melee

0.5
0.56
-
Grimstroke
600
0.35
0.85
900
Gyrocopter
365
0.2
0.1
3000
Hoodwink
575
0.4
1.5
1800
Huskar
400
0.3
0.5
1400
Invoker
600
0.4
0.7
900
Io
500
0.3
0.4
1200
Jakiro
400
0.4
0.3
1100
Juggernaut

Melee

0.33
0.84
-
Keeper of the Light
600
0.3
0.85
900
Kunkka

Melee

0.4
0.3
-
Legion Commander

Melee

0.46
0.64
-
Leshrac
575
0.4
0.6
900
Lich
550
0.46
0.54
900
Lifestealer

Melee

0.39
0.44
-
Lina
670
0.65
0.6
1000
Lion
600
0.43
0.74
900
Lone Druid
550
0.33
0.53
900
Luna
330
0.35
0.54
900
Lycan

Melee

0.55
0.25
-
Magnus

Melee

0.5
0.84
-
Mars

Melee

0.4
1.38
-
Medusa
600
0.5
0.6
1200
Meepo

Melee

0.38
0.6
-
Mirana
630
0.35
0.7
900
Monkey King

Melee

0.45
0.2
-
Morphling
350
0.5
0.5
1300
Naga Siren

Melee

0.5
0.5
-
Nature's Prophet
600
0.4
0.6
1125
Necrophos
500
0.3
0.47
1200
Night Stalker

Melee

0.55
0.55
-
Nyx Assassin

Melee

0.46
0.54
-
Ogre Magi

Melee

0.3
0.3
-
Omniknight

Melee

0.433
0.567
-
Oracle
620
0.3
0.7
900
Outworld Destroyer
450
0.46
0.54
900
Pangolier

Melee

0.33
0.77
-
Phantom Assassin

Melee

0.3
0.7
-
Phantom Lancer

Melee

0.5
0.5
-
Phoenix
525
0.35
0.633
1100
Puck
550
0.5
0.8
900
Pudge

Melee

0.5
1.17
-
Pugna
630
0.5
0.5
900
Queen of Pain
550
0.56
0.41
1500
Razor
475
0.3
0.4
2000
Riki

Melee

0.3
0.3
-
Rubick
550
0.4
0.77
1125
Sand King

Melee

0.53
0.47
-
Shadow Demon
500
0.35
0.5
900
Shadow Fiend
500
0.5
0.54
1200
Shadow Shaman
400
0.3
0.5
900
Silencer
600
0.5
0.5
900
Skywrath Mage
625
0.4
0.78
1000
Slardar

Melee

0.36
0.64
-
Slark

Melee

0.5
0.3
-
Snapfire
500
0.35
1.23
1800
Sniper
550
0.17
0.7
3000
Spectre

Melee

0.3
0.7
-
Spirit Breaker

Melee

0.6
0.3
-
Storm Spirit
480
0.5
0.3
1100
Sven

Melee

0.4
0.3
-
Techies
700
0.5
0.5
900
Templar Assassin
160
0.3
0.5
900
Terrorblade

Melee

0.3
0.6
-
Tidehunter

Melee

0.6
0.56
-
Timbersaw

Melee

0.36
0.64
-
Tinker
500
0.35
0.65
900
Tiny

Melee

0.4
0.7
-
Treant Protector

Melee

0.6
0.4
-
Troll Warlord
500
0.3
0.3
1200
Tusk

Melee

0.36
0.64
-
Underlord

Melee

0.45
0.7
-
Undying

Melee

0.3
0.3
-
Ursa

Melee

0.3
0.3
-
Vengeful Spirit
400
0.33
0.64
1500
Venomancer
450
0.3
0.7
900
Viper
575
0.33
1
1200
Visage
600
0.4
0.54
1400
Void Spirit

Melee

0.35
0.78
-
Warlock
600
0.3
0.3
1200
Weaver
425
0.55
0.36
900
Windranger
600
0.4
0.3
1250
Winter Wyvern
425
0.25
0.8
700
Witch Doctor
600
0.4
0.5
1200
Wraith King

Melee

0.56
0.44
-
Zeus
380
0.35
0.55
1100
Attack animation of other units
[
edit
]
| | Unit | Attack Range | Attack Point | Attack Backswing | Projectile Speed |
| --- | --- | --- | --- | --- | --- |
| | Ranged Creep | | 0.5 | 0.3 | 900 |
| | Melee Creep, Treant | Melee | 0.467 | 0.533 | - |
| | Siege Creep | | 0.7 | 1.3 | 1100 |
| | Tower | | 0.6 | 0.4 | 750 |
| | Fountain | | 0 | 0 | 1400 |
| | Kobold, Kobold Soldier | Melee | 0.38 | 0.6 | - |
| | Kobold Foreman | Melee | 0.38 | 0.6 | - |
| | Centaur Courser, Mud Golem, Spiderling, Spiderite | Melee | 0.5 | 0.3 | - |
| | Centaur Conqueror, Hellbear, Hellbear Smasher Ogre Bruiser, Ogre Frostmage, Satyr Mindstealer, Satyr Tormenter, Ancient Rock Golem | Melee | 0.3 | 0.3 | - |
| | Fell Spirit | Melee | 0.4 | 0.3 | - |
| | Ghost | | 0.3 | 0.3 | 900 |
| | Giant Wolf, Alpha Wolf, Lycan Wolf | Melee | 0.33 | 0.64 | - |
| | Wildwing, Wildwing Ripper, Roshan, Earth, Fire, Undying Zombie | Melee | 0.3 | 0.3 | - |
| | Satyr Banisher | | 0.3 | 0.3 | 1500 |
| | Ancient Granite Golem | Melee | 0.3 | 0.5 | - |
| | Ancient Thunderhide, Ancient Rumblehide | | 0.5 | 0.56 | 1500 |
| | Vhoul Assassin | | 0.4 | 0.3 | 1500 |
| | Hill Troll, Dark Troll Summoner, Hill Troll Berserker | | 0.3 | 0.3 | 1200 |
| | Hill Troll Priest | | 0.3 | 0.3 | 900 |
| | Harpy Scout | | 0.3 | 0.3 | 1200 |
| | Harpy Stormcrafter | | 0.3 | 0.3 | 1200 |
| | Ancient Black Drake | | 0.94 | 0.56 | 900 |
| | Ancient Black Dragon | | 0.94 | 0.56 | 1500 |
| | Skeleton Warrior | Melee | 0.56 | 0.44 | - |
| | Wraith King Skeleton | Melee | 0.56 | 0.64 | - |
| | Necronomicon Warrior | Melee | 0.56 | 0.44 | - |
| | Necronomicon Archer | | 0.7 | 0.3 | 900 |
| | Death Ward | | 0 | 0 | 1000 |
| | Serpent Ward | | 0.3 | 0.4 | 900 |
| | Plague Ward | | 0.3 | 0.7 | 1900 |
| | Eidolon | | 0.4 | 0.77 | 900 |
| | Forged Spirit | | 0.2 | 0.4 | 1000 |
| | Warlock Golem | Melee | 0.26 | 0.74 | - |
| | Boar | | 0.633 | 0.337 | 1500 |
| | Storm | | 0.4 | 0.77 | 1200 |
| | Spirit Bear | Melee | 0.43 | 0.67 | - |
| | Familiar | | 0.33 | 0.2 | 900 |
See also
[
edit
]
Mechanics
Stats
Attack
Abilities
Status effects
World
Gameplay
Units