Alchemist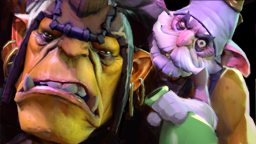 Earns extra gold from unit kills and bounty runes.
Having broken out of prison with his ogre accomplice, Razzil Darkbrew embarks on the search for new materials to use in his transmutations. Learned in alchemy, he created fields of corrosive, toxic

Sludge Acids

to accelerate his

Greevil's Greed

— extracting extra gold from creeps and Bounty Runes. With enough resources, it is rumored that Razzil has the secret formula to

Synthesize

a buff into the body that equals the legendary scepter. The Alchemist brews, atop the shoulders of his companion, an increasingly

Unstable Concoction

that is ideally thrown before it explodes. In a pinch, Razzil slips his partner with an

Unknown Potion

, inducing a

Chemical Rage

in the ogre's body. Symptoms include unnatural speeds, rapid health regeneration, and a pleasant purple hue.
Roles:
Carry Support Durable Disabler Initiator Nuker
Complexity:
★☆☆
Bio
[
]
Abilities
[
]
Talents
[
]
Recent Changes
[
]
Recommended Items
[
]
Starting items:
Early game:
Mid game:
Power Treads increase attack speed and strength to help Alchemist obtain last hits. The bonus intelligence helps him use more Acid Spray in the early to mid game.
Armlet of Mordiggian works well with Chemical Rage's health regeneration, countering the item's health draining effect.
Blink Dagger improves mobility so Alchemist can get in range and use Unstable Concoction on the enemies.
Late game:
Boots of Travel allows Alchemist to split push lanes, and be present at while farming free lanes. Also, the movement speed boost greatly mitigates his weakness in mobility.
Black King Bar protects Alchemist from most disables so he can continue to deal damage.
Assault Cuirass lowers enemies' armor, which stacks with the armor reduction from Acid Spray. It also provides a useful aura to buff armor and attack speed the rest of your team.
Situational items:
Gameplay
[
]
Audio
[
]
History
[
]
Equipment
[
]
Trivia
[
]
At one point during beta, Alchemist's bio consisted entirely of the following sentence: "Alchemist is named Al and is a chemist."
Alchemist's third ability name remained unchanged from its DotA counterpart until after the Diretide event, when it was changed from "Goblin's Greed" into "Greevil's Greed."
The Ogre's portion of the Caustic Steel cosmetic set may be a reference to Master Blaster from Mad Max: Beyond The Thunderdome, while the Alchemist's armor and hair are most likely a reference to Edward Elric, one of the two main protagonists of Fullmetal Alchemist.
Acid Spray's Link▶️ sound effect has the same reprocessed sound of Link▶️ Oil Platform building from game Warcraft 2: Tides of Darkness, created by Blizzard.
One of Alchemist's last hit lines Link▶️ "Only ninety-eight percent pure?" is a direct reference to AMC's TV series Breaking Bad.[1]
Another of his last hit lines Link▶️ "Greed is good." is a reference to Gordon Gekko's speech in the 1987 film, Wall Street.[2] as well as the actual cheat code from Warcraft III which gives the player gold on single player campaign.
Alchemist's line for picking up a Haste Rune Link▶️ "Run, buddy, run!" may be a reference to Forrest Gump, since sometime in the movie there is a line "Run, Forrest, Run!"[3]
Alchemist's leveling line Link▶️ " Better living through alchemy!" is a reference to the phrase "Better Living Through Chemistry", a popular variant of a DuPont advertising slogan which later became a common phrase.
Gallery
[
]
References
[
]