Aegis of Champions
Associated With
Factions
Dire
Radiant
The Aegis of Champions is a physical trophy that is awarded to the winners of The International tournament. It was forged out of bronze and silver by Weta Workshop in 2012. The reverse side of the trophy is engraved with the names and handles of each player on the winning team of The International each year.
Lore
[
]
The Aegis of Championss is the ultimate symbol of victory in the epic struggle between Dire and Radiant. Never given, only earned, the shield is hefted by those who best prove themselves in the great tournament.
The Aegis was based on Norse and Chinese designs. Its central relief depicts lane creeps from the Radiant and the Dire.
Winners
[
]
1 The Aegis had not yet been created during The International 2011.
Miniature Collector's Editions
[
]
2020
[
]
2019
[
]
2018
[
]
2017
[
]
2016
[
]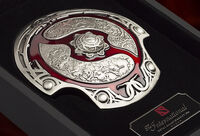 2015
[
]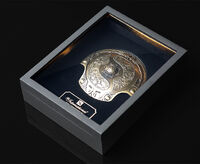 Players who owned an International Compendium 2015 above level 1,000 could register to receive, for free, a 1/5th scale replica of the Aegis in the mail.
This edition is inscribed with the year 2015.
This edition is tinted gold to match the color scheme of The International 2015.
This edition is made of alloy and coated with antique brass plating.
Gallery
[
]
Champions
Trivia
[
]
The Aegis took over 300 hours to create.
The Aegis is primarily made from cold cast bronze inlaid with hand-tooled leather.
The Aegis can be seen in-game at the Fountain in each base. Clicking on the Aegis will display the members from past winning teams of The International.
External links
[
]